Measurements taken from satellite, aircraft and ships are to help create a detailed picture of UK emissions of harmful greenhouse gases. The measurements will be taken as part of a new project starting today led by the University of Edinburgh and involving scientists from the Centre for Ecology & Hydrology as well as other organisations.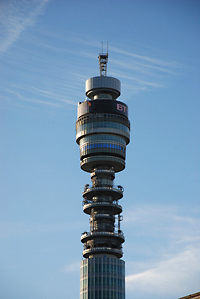 Scientists will use the results from the project to help gauge and track progress on government targets to curb greenhouse gas emissions.
The project will measure gases emitted from various UK sources, such as industry, landfill and agriculture. Tracking their movements will also help researchers improve their current understanding of how the gases affect climate change.
Scientists will fly across the UK in a research aircraft equipped with sensors to measure carbon dioxide, methane and nitrous oxide in the air. The team will also take samples from sensors on a North Sea ferry and from a series of towers, several storeys high, located across the UK.
Results from the four-year survey will be coupled with observations from European, US and Japanese satellites of greenhouse gas movements. Together this will give details of UK emissions to the atmosphere in a global context, taking account of seasonal changes such as emissions linked to agriculture.
Air sampling at the BT Tower in London and observations at a tower to be built in south-east England will enable the first long-term study of greenhouse gas emissions from the capital.
Professor Paul Palmer of the University of Edinburgh's School of GeoSciences, who is leading the project, said, "This will deliver robust greenhouse gas emissions estimates from the UK and the world, by bringing together comprehensive data and talented scientists who can make sense of it. This should help track progress towards tackling climate change."
CEH will be working on the measurements from the BT Tower and on the ferry crossings. Dr Eiko Nemitz of CEH explained, "The island situation of the UK provides a unique approach to measuring the emissions from mainland UK, which most countries would not be able to utilise: a measurement system for greenhouse gas concentrations on a cargo ferry operating between Rosyth, Scotland and Zeebrugge, Belgium, will continuously track the greenhouse gas concentrations in the outflow from the UK."
The study is funded by the Natural Environment Research Council.
Additional information
The project is entitled GAUGE (Greenhouse gAs Uk and Global Emissions). The full list of project partners are the Universities of Edinburgh (lead), Bristol, Cambridge, Leeds, Leicester and Manchester, the Centre for Ecology & Hydrology, the Met Office, the NERC Radiocarbon Facility and the Rutherford Appleton Laboratory.
You can follow the latest developments in CEH research via Twitter and our RSS news feed.