New Ladybird Parasite Survey offers chance to witness evolution in action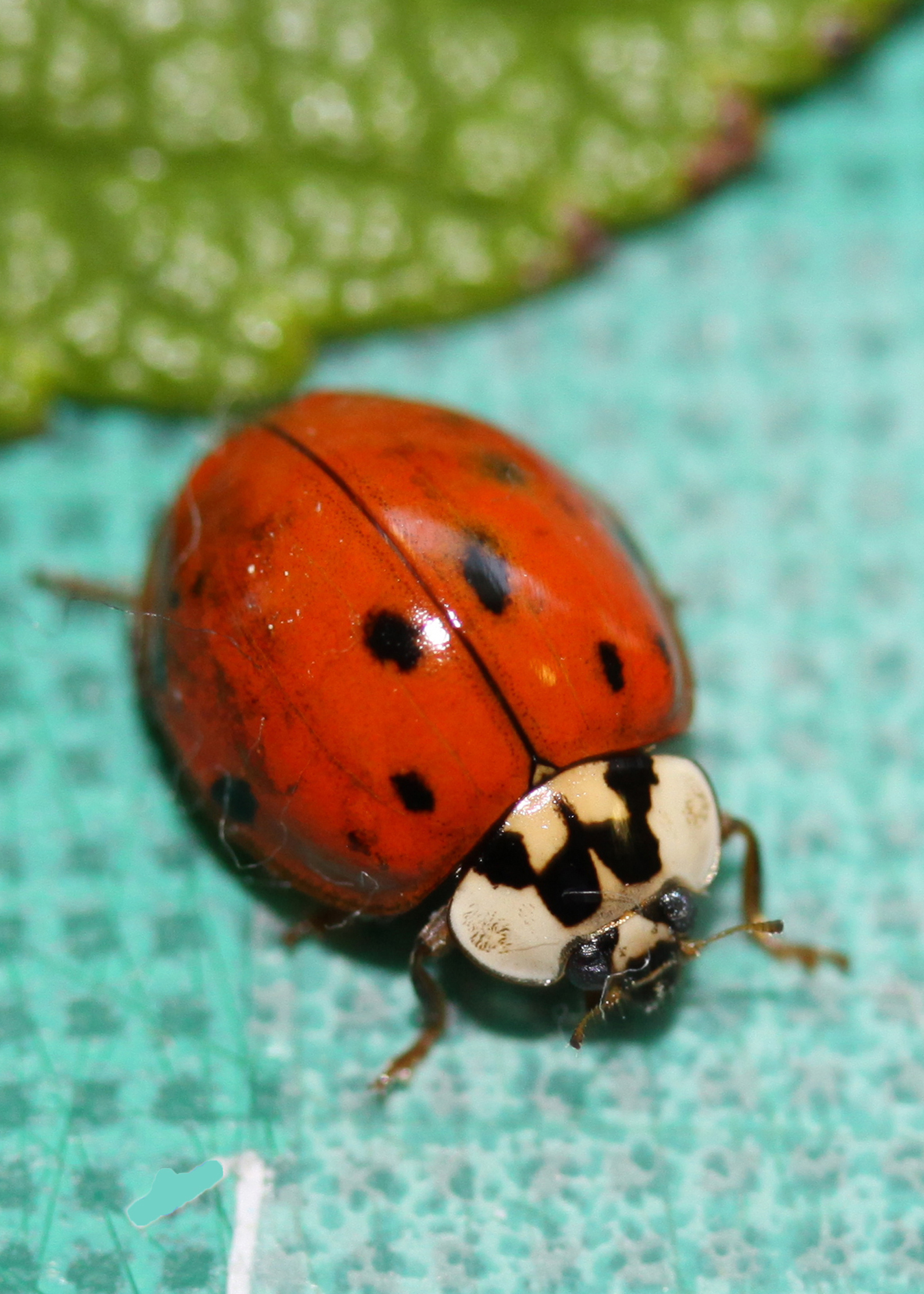 Scientists investigating the spread of the invasive harlequin ladybird are asking the public to help record examples of native parasites attacking the alien species.
They hope to understand how parasitic flies and wasps, known to attack the UK's native ladybirds, are now interacting with the alien harlequin ladybird. Little is known about ladybird parasites in general and the new Ladybird Parasite Survey provides a wonderful opportunity to witness evolution in action.
The research team, from the Centre for Ecology & Hydrology and the University of Cambridge, jointly run the long-running UK Ladybird Survey. This summer they have joined with schools involved in the BBC Breathing Places project to highlight the new Ladybird Parasite Survey.
Tiny native parasitic flies and wasps commonly lay their eggs in native ladybirds, subsequently causing death to the host. Over the last twelve months evidence has emerged that alien harlequin ladybirds, first spotted in the UK in 2004, are also being attacked by parasitic flies and wasps. The parasitic insects seem to be adapting to life with the harlequin ladybird. However several key questions remain. In particular scientists need to know whether the parasite attacks the alien harlequin at a similar rate to the native ladybird and whether this is changing over time.
Members of the public joining the Ladybird Parasite Survey must first find some ladybird pupae, usually found fixed to the leaves of broad-leaved trees, conifers and low-growing plants, then take samples home in containers with a clear lid (for example cling film over a yoghurt pot), and finally check the pupae every day to see what is happening.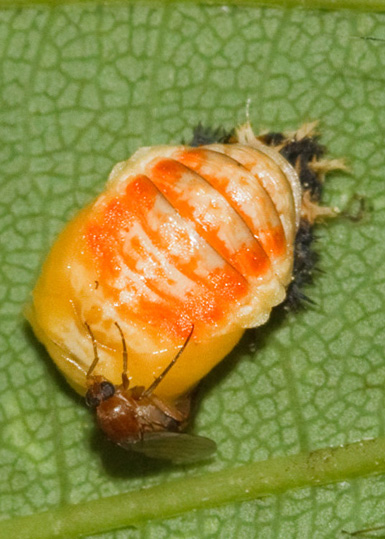 Now is the prime time to find ladybird pupae and hence parasites. Parasitic flies and wasps have been encountered in all developmental stages of ladybirds, but larvae and pupae are attacked more often than eggs and adults.
An adult ladybird will usually emerge from a pupa within one to two weeks. If the pupa has been attacked by a parasite, then this will emerge instead of a ladybird.
Once the ladybird or parasites have emerged people can record the results, including photographs, of their experiment on the BBC Breathing Places Ladybird Parasite Survey website. The results will contribute valuable data to the UK Ladybird Survey.
Dr Helen Roy, UK Ladybird Survey co-ordinator from the Centre for Ecology & Hydrology, said, "We will be able to witness evolution in action as the native parasites begin to adapt to life within the alien harlequin. Coupling the successful UK Ladybird Survey with the Ladybird Parasite Survey provides an exciting opportunity to explore links between species within a complex food web."
There's still time to get involved with the project. To take part, all schools and individuals have to do is register. Registered schools will automatically receive teaching notes and other activity sheets are available on the website.
Additional information (external links)
The Centre for Ecology & Hydrology issued a press release to accompany this news. Journalists can contact the CEH Press Office if they would like to speak to a ladybird scientist or require ladybird photographs.
Read more about ladybirds and parasites.
BBC Breathing Places is a five-year BBC Learning Campaign to inspire people to connect with nature. Developed in partnership with a huge range of wildlife and conservation organisations, the campaign encourages new audiences to get involved in doing one thing for nature. As well as environmental organisations, Breathing Places also works in partnership with other volunteer associations, city councils and education groups. BBC Breathing Places Schools joined forces with the RSPB two years ago and has been working with 40 other conservation and education organisations across the UK to deliver a 'Do One Thing' activity each term.
BBC Breathing Places Schools decided to offer the Ladybird Survey as its new 'Do One Thing' activity as part of its summer of action in the International Year of Biodiversity. Visit the website of IYB-UK, which is the UK partnership supporting the International Year of Biodiversity.
The UK Ladybird Survey is run by scientists from the Centre for Ecology & Hydrology, the University of Cambridge and Anglia Ruskin University.
Related CEH links
CEH's Biodiversity Science Programme
UK Schools and the BBC join the Ladybird Survey - 18 May 2010
Scientists call on the public to help monitor invasive species - 22 March 2010
Further information on CEH research into invasive and non-native species