Two Centre for Ecology & Hydrology (CEH) scientists have been successful in the prestigious Royal Society's "MP-Scientist Pairing Scheme".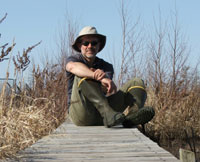 Mathematical modeller, Jim Smith from the CEH site at Winfrith in Dorset and atmospheric scientist Mike Billett from the CEH site in Edinburgh will each be paired with an MP from November 2005 to January 2006.
Jim is to be paired with Jim Knight who is not only Jim's local MP but also Minister for Rural Affairs, Landscape and Biodiversity (Defra). Mike had been paired with David Hamilton, Labour MP for Midlothian.
Jim Knight visited the CEH site in Dorset in August and was able to meet many of the staff including Jim Smith who works on radioactivity issues in the environment.

The MP-pairing scheme kicks off with a week in Westminster starting on 14 November which will be followed by reciprocal constituency and research site visits over the next two months.
Additional Information
Royal Society's "MP-Scientist Pairing Scheme".
Dr Mike Billett works in the CEH Atmospheric Sciences Research team