Researchers are attending two scientific meetings hosted by the Royal Society this week to discuss issues relating to the global nitrogen cycle.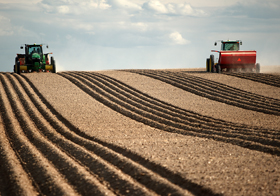 The Centre for Ecology & Hydrology's Professor David Fowler FRS and Professor Mark Sutton are among the organisers of both events, and are also part of the international line-up of speakers.
"The global nitrogen cycle", at the Royal Society, London, from Monday 5 December to Tuesday 6 December, looks at the current understanding of the global nitrogen cycle and the extent to which it has been modified by human activities. It will consider processes regulating the sources, transformation in and removal from the atmosphere and their effects on climate, terrestrial and marine ecosystems and human health, and likely trends through this century.
The proceedings are scheduled to be published in a future issue of Philosophical Transactions B.
Then, on Wednesday 7 December and Thursday 8 December, the Kavli Royal Society International Centre is the venue for a more focused discussion on the question, "What would a global policy to regulate human use of fixed nitrogen look like?"
Approximately half of the global human population relies on fertilizer nitrogen for food, yet fixed nitrogen in the atmosphere and in terrestrial and marine ecosystems represents a threat to human health, biodiversity and climate. The atmosphere transfers fixed nitrogen efficiently across international borders, and many of the effects occur far from the source. There are controls over specific components of the nitrogen cycle in some countries, but these are not integrated in a meaningful way and the time will come when a global strategy to manage the benefits and risks effectively may be necessary.
This second meeting brings together scientists and environmental policy-makers to discuss the policy implications of human modification of the global nitrogen cycle and the merits and risks of a policy initiative to regulate the human use of fixed nitrogen at global and regional scales. It will produce a brief document outlining the possible ways forward and the consequences of not taking action, to be published as a Policy Statement by the Royal Society.
Additional information
The Global Nitrogen Cycle (5-6 December 2011)
What would a global policy to regulate human use of fixed nitrogen look like? (7-8 December 2011)
Related CEH information
Excessive nitrogen harms the economy and environment - first Europe-wide assessment published - 11 April 2011
Nitrogen and Global Change - major science conference in Edinburgh - 8 April 2011
You can follow the latest developments in CEH research via Twitter and our RSS news feed .