The Centre for Ecology & Hydrology (CEH) has further strengthened ties with partners in India by exchanging a memorandum of understanding with the Indian Institute of Technology Roorkee (ITT Roorkee).
The new agreement, exchanged between CEH Deputy Director Professor Alan Jenkins and IIT Roorkee Director Professor Ajit K Chaturvedi, means the two institutions will collaborate on scientific research in the areas of water, energy, agriculture and the environment.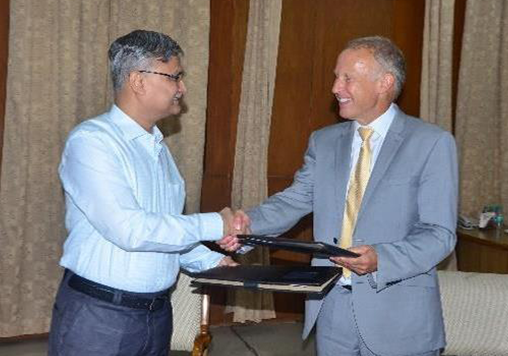 Photo: Professor Alan Jenkins (right) with Professor Ajit K Chaturvedi
Specifically, the partnership enables joint working on research projects and programmes to tackle issues including water, energy and food security, floods and drought risk prediction and management, agricultural water management, environmental change assessment, impacts and mitigation, as well as environmental monitoring and data management.
Recently, CEH also met with India's Secretary of the Ministry of Water Resources Dr Amarjit Singh and Secretary of the Ministry of Earth Sciences Dr Madhavan Rajeevan who both voiced their support for the advancement of the COSMOS-India soil moisture monitoring system and the creation of a Hydrological Outlook for the country.
CEH on that occasion also took the opportunity to formally agree to share its expertise on disease transmission and help mitigate the risk for potential outbreaks of diseases such as bluetongue and Schmallenberg virus with the National Institute of Veterinary Epidemiology and Disease Informatics (NIVEDI).
Over the next three years CEH will be delivering £3m worth of NERC/BBSRC contracts in India helping to bring about cleaner air and improved water quality and resources management. This includes the India/UK Water Centre (£450,000) led by Dr Harry Dixon who also joined Professor Jenkins on the latest trip to India.
Additional information
Staff page of Professor Alan Jenkins, CEH
Staff page of Dr Harry Dixon, CEH