The Rt Hon David Willetts MP, Minister of State for Universities and Science, visited the Centre for Ecology & Hydrology's Edinburgh site on Monday 9 September.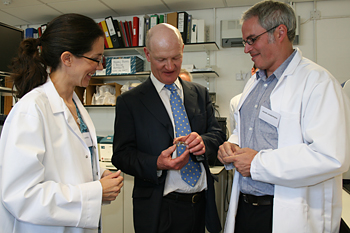 The main focus of his visit was to discuss the latest research into pollinators. He met with ecologists Dr Claire Carvell and Dr Adam Vanbergen (Science Co-ordinator of the UK Insect Pollinators Initiative).
Dr Vanbergen explained during a visit to the laboratory how the CEH researchers were combining ecology with molecular genetics, showing how environmental changes affected the organisation of pollinator community networks and how this in turn affected inbreeding in wild plant populations. The minister also discussed with Drs Carvell and Vanbergen the various issues around the valuation and conservation of pollinators and the ecosystem service they provide. Finally he was shown details of the long-term biological recording networks co-ordinated by CEH which have helped in tracking changes in UK wildlife over the last century.
The minister also heard from Professor David Fowler FRS about the role played by CEH scientists in research into atmospheric pollution monitoring and the contribution of nitrogen management towards more efficient, sustainable agriculture. The visit concluded with a discussion on seabird ecology and sources of renewable energy with Dr Francis Daunt.
Dr Alistair Dawson, Head of CEH's Edinburgh site said, "We were delighted to introduce the Minister to some of the very wide range of research undertaken by CEH, both in Scotland and across our sites in England and Wales."
Additional information
Ecologists get first bumblebees' eye view of the landscape - 22 August 2013
Cocktail of multiple pressures combine to threaten the world's pollinating insects - 22 Apr 2013
CEH's seabird population ecology research
Review of Transboundary Air Pollution (RoTAP)
Dr Adam Vanbergen (CEH) is Science Co-ordinator of the UK Insect Pollinators Initiative (IPI), a role involving science and knowledge exchange activities, reporting and data management. The IPI is a programme funding research into the causes and consequences of insect pollinator decline to provide a solid evidence base with which to inform appropriate mitigation strategies.
You can follow the latest developments in CEH research via Twitter and our RSS news feed