A study into the effectiveness of hedgerow management options in agri-environment schemes (AES), such as Environmental Stewardship in England (ES) has found that cutting hawthorn hedges every three years, or in late winter, can substantially increase resources to benefit wildlife.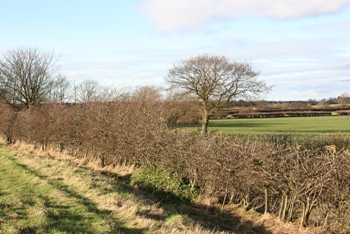 The most popular ES options in England currently specify cutting hedgerows once every two years, while standard practice outside the scheme is for annual trimming. An alternative ES option involves cutting once in three years.
"These emerging results have national and even international implications as there are an increasing number of countries implementing AES or other forms of hedgerow management regulations," said lead author, Dr Joanna Staley. Dr Staley continued, "Going forward, we are broadening the research to cover a wider range of hedgerow species and across more sites to allow us to generate robust evidence to help improve future policies."
Hedgerows provide important habitat and food resources for wildlife. Hedgerow berries are an essential food for overwintering birds and small mammals, while hedge flowers provide nectar for pollinating insects. Despite their popularity, the usefulness of these ES options in increasing resource provision for wildlife has so far received only limited rigorous testing.
Scientists led by the Centre for Ecology & Hydrology carried out the experiment over five years at a site in Cambridgeshire to investigate the response of hawthorn hedges to cutting management that changed in both frequency and timing. They also used a model to explore the impacts of the experiment in a national context.
They found that reducing cutting frequency from every year to every three years resulted in 2.1 times more flowers and a 3.4 times greater berry weight over five years. Cutting every two years also increased flowers and berry provision, but the increase in berry weight depended on cutting hedges in late winter rather than autumn. If hedges currently managed under the most popular ES option (32% of English managed hedgerow length) were managed under a three-year cutting regime instead, the study estimates that biomass of berries would increase by approximately 40%.
The findings are published in the journal Biological Conservation. This study is part of ongoing research funded by Defra, conducted in partnership with Natural England.
Additional information
CEH's Biodiversity Science Programme
Dr Joanna Staley - staff page and research interests at CEH
The findings are published in the journal Biological Conservation. The full reference is Joanna T. Staley, Tim H. Sparks, Philip J. Croxton, Katherine C.R. Baldock, Matthew S. Heard, Sarah Hulmes, Lucy Hulmes, Jodey Peyton, Sam R. Amy, Richard F. Pywell (2011), Long-term effects of hedgerow management policies on resource provision for wildlife. Biological Conservation. doi:10.1016/j.biocon.2011.09.006
CEH's Press Office issued this story as a Media Briefing.
You can follow the latest developments in CEH research via Twitter and our RSS news feed.