Scientists in Oxfordshire have released new findings that could have major implications for future water resources across the planet.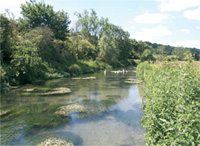 River KennetThe flows of many rivers around the world are increasing even though the rainfall falling on the Earth's land-mass has changed little over recent decades. In a paper published in the scientific journal Nature on 16th February 2006, six scientists from the Joint Centre for Hydro-Meteorological Research (JCHMR) in Wallingford , a collaboration between the Centre for Ecology & Hydrology and the UK Met Office present a solution to this puzzle.
The experts have detected that the global effects of increased CO2 on plants have led to an increase in water running off into rivers.
Dr Nicola Gedney of the JCHMR, lead author of the article, said: "This answers a key question about what is driving the changes in the global water cycle. CO2 is not only a greenhouse gas; it can also affect the world's water directly through plant life."
Experiments have previously shown that higher carbon dioxide concentrations make plants more efficient; allowing them to extract less water from the soil, but this effect has not previously been seen at large scales. The new study indicates that the worldwide effects of plant responses to carbon dioxide are already resulting in an increase in the amount of water left to drain into the world's rivers.
Co-author, Professor Peter Cox from the Centre for Ecology & Hydrology added: "Direct effects of carbon dioxide on vegetation need to be included in assessments of how global water resources will change over the coming decades."
Additional Information