Scientists at the Centre for Ecology & Hydrology (CEH) are undertaking a systematic review on whether the characteristics of river floods in Britain are affected by the presence of trees in the wider landscape. Many commentators have suggested that the presence of trees reduces flood flows.
The project addresses an urgent need to provide a clear and robust evidence base on the links between the presence of trees in British catchments and flood flows in rivers. The results of the evidence assessment will support decision and policy makers, and will guide future research activity.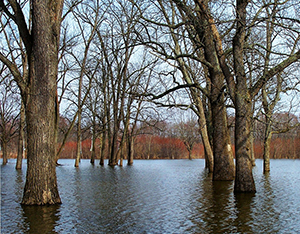 A systematic review is an assessment of written evidence that uses rigorous, systematic, replicable and transparent methods to minimise bias in the results.
CEH is leading the review and will work closely with an advisory group to define the scientific questions and methodology. The advisory group includes representatives from the Environment Agency, Natural England, Forestry Commission, South West Water, University of Lancaster, National Trust, Confederation of Forest Industries, Woodland Trust, National media, National Farmers Union, and WWF.
Widespread flooding across Cumbria and other parts of northern Britain in December 2015 left more than 5,000 homes inundated and 43,000 without power. Much of the subsequent media attention focused on whether natural solutions can help reduce floods, in particular the potential impact of woodlands on flooding. However, their effectiveness is widely debated, reflecting the diversity of evidence and expert opinion.
Professor Alan Jenkins, Deputy Director of the Centre for Ecology & Hydrology and Director, Water & Pollution Science, said, "There is still much to learn about the effectiveness of natural flood management techniques. For this reason scientists at the Centre for Ecology & Hydrology will carry out a systematic review to provide evidence of whether river floods can be reduced by the use of natural flood management mechanisms, such as the planting trees."
This review will consider studies that include a broad range of outcomes, including various indicators of river floods such as peak flow, time-to-peak and flood volume. Results will be analysed within the context of flood return period, forest type and management history, catchment properties and antecedent conditions.

Professor Jenkins added, "Our independent evidence assessment will build on decades of flood science research and national datasets and use input from a wide variety of key stakeholders. The outcomes will support decision and policy makers, including farmers, and help guide the UK's future research activity in this area."
If you'd like to be involved in the review and/or have evidence that could be considered please contact Dr Gareth Old. CEH is asking to be notified of relevant reports, papers or datasets, so that they can be included in the review.
The project is funded by NERC through CEH's National Capability research programme. The review is expected to report by the end of November 2016.
Additional information
What difference could natural flood management techniques make? CEH blog post January 2016
Staff page of Charlie Stratford, CEH
Staff page of Professor Alan Jenkins, CEH
Related links