Prof Jim Lovelock FRS, the man behind the world famous Gaia theory* which proposes that Planet Earth functions as a single organism, was the guest speaker at the Seventh Winfrith Public Lecture held at the Centre for Ecology & Hydrology's research site in Dorset on Thursday 16th March.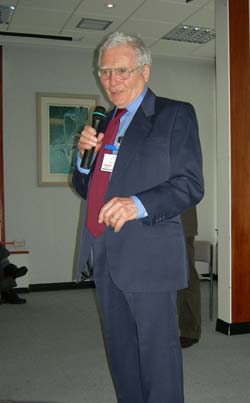 Prof. Lovelock entranced the audience of 150 invited guests with an entertaining and informative talk based on his latest thoughts, outlined in his new book 'Revenge of Gaia'. Afterwards he spent 30 minutes answering questions from the floor.
The lecture was organised by Judith Wardlaw as part of National Science Week 2006 run by the British Association. Many thanks to Judith for all her hard work making the arrangements and to Professor Jeremy Thomas for acting as host on the day.
*The Gaia Theory states that the entire Earth planet is a self-regulating organism, by the interaction of plant and chemical processes, to provide conditions suitable for life on Earth. This is in contrast to conventional wisdom that states that life adapted and evolved to exist under prevailing planetary conditions. Gaia's revenge is that the self-regulatory processes may now have tipped beyond the point of return owing to human activities and interference with natural systems.
Additional Information