Scientific findings to provide lasting legacy
The final report of the Water and Global Change programme (WATCH), an extensive analysis of the world's water resources, is made available today (October 13), significantly expanding our understanding of climate change and land use impacts on the global hydrological cycle.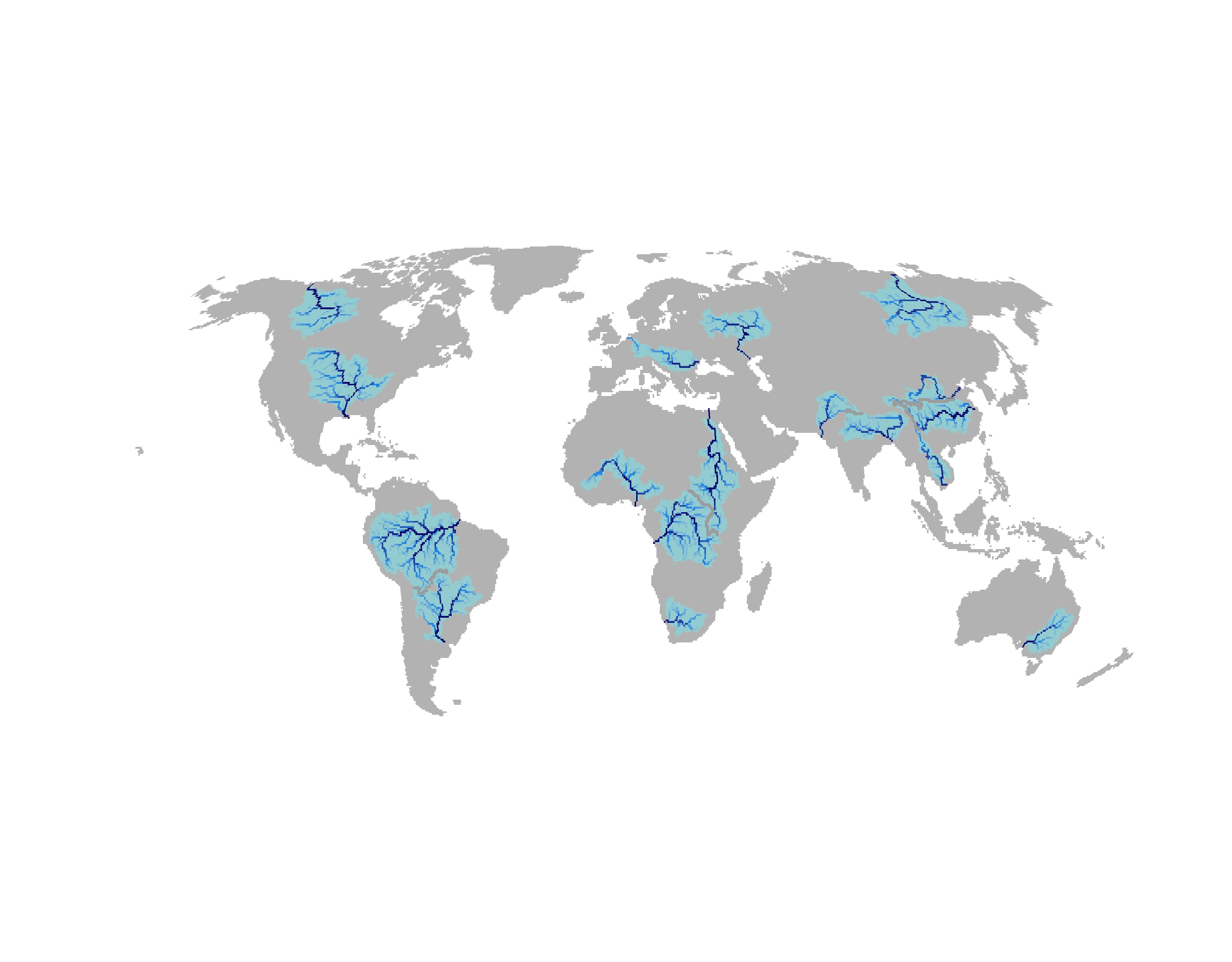 WATCH results provide the first assessment of the global hydrological cycle on a daily time-frame at 50km grid scale resolution for the past (20th century) and future (21st century), as well as a new global analysis of water scarcity.
Findings from WATCH, including new data sets, maps, new methods and models, are expected to provide a lasting legacy which will be used to analyse, predict and manage water resources, floods and droughts worldwide.
The four-year programme, funded by the European Union Framework Six Programme, was coordinated by scientists at the UK's Centre for Ecology & Hydrology, and brought together a team of 100 climate scientists and hydrological researchers from 25 research centres in 14 European countries.
During the WATCH programme contributing scientists have:
highlighted the importance of land use change, which is at least as important as climate change to water resource issues

identified the potential vulnerability of water supply in sub-tropical catchments where changes in climate, land use and increasing consumption combine to produce future decreases in available water by up to 30%

provided new insights on the importance of evaporation for the global water cycle

investigated whether global anthropogenic greenhouse gas emissions substantially increase the risk of flood occurrence (e.g. in England and Wales in Autumn 2000)
WATCH outputs include 54 technical reports and over 200 papers in peer-reviewed journals.
Dr Richard Harding from the Centre for Ecology & Hydrology, coordinator of WATCH, said, "WATCH has produced the most extensive analysis ever of future water resources for the entire world, confirming that the hydrological cycle is changing. WATCH has shown that although there is still substantial uncertainty in our modelling of the future water cycle, as we develop understanding of the driving processes, we will be able to make more confident assessments for the future. The next challenge is to communicate and apply these results within the wider global user community."
"To manage water resources successfully over the next five to ten years you need to start making changes now. The lasting legacy of the results from WATCH will be to make this process easier."

Dr Richard Harding, CEH
In addition to scientific outputs and release of data, an outreach portal and educational website have been created to allow researchers, policymakers and the general public to learn more about the global water cycle.
It is hoped the new website will act as an educational and information access point to enable learning, with maps and environmental data on the world's water resources. Rainfall, soil moisture, evapotranspiration rates and river catchment data are presented in 3D maps, with 18 of the world's biggest river systems covered in detail.
Dr Harding added, "To manage water resources successfully over the next five to ten years you need to start making changes now. The lasting legacy of the results from WATCH will be to make this process easier."
Dr Eleanor Blyth from CEH, who led the WATCH work package examining the feedbacks between hydrology and climate, said, "More dependable impact assessments require effective partnerships among research organisations and, importantly, partnerships between scientific disciplines.
"One critical partnership is that between climate scientists and hydrologists. Yet, in the past these groups have not worked effectively together. WATCH has changed that."
Additional information
The Centre for Ecology & Hydrology issued a press release for this story.
The Water and Global Change (WATCH) programme was a €13M Integrated Project funded under the European Union's Sixth Framework Programme. It ran from February 2007 to July 2011. For the first time it brought together the hydrological, water resources and climate research communities at an international level. Together they analysed, quantified and predicted the components of the global water cycle and the related water resources – for the present and for the future. They also evaluated the associated uncertainties, and clarified the vulnerability of global water resources within key societal and economic sectors.
A total of 25 institutions from 14 European countries participated in WATCH. The programme was co-ordinated by the UK's Centre for Ecology and Hydrology. Full list of the participating organisations.
WATCH websites
www.eu-watch.org: the project website providing information on partners, organisations and publications
www.eu-watch.tv: the online version of the WATCH final report with video and audio supplements from those involved
www.waterandclimatechange.eu: educational website that provides an introduction to the global water cycle and its links with climate change
Related CEH links
WATCH data are available via the Centre for Ecology & Hydrology Information Gateway
Dr Richard Harding speaking at the European Water Conference 2009 in Brussels – 3 April 2009
Water and Global Change (WATCH): bringing research communities together to study the global water cycle
You can follow the latest developments in CEH research via Twitter and our RSS news feed.