The Centre for Ecology & Hydrology's Professor Helen Roy has appeared on BBC Gardeners' World encouraging people to report sightings of the Asian Hornet using the Asian Hornet Watch app recently launched by Minister for Rural Affairs and Biosecurity Lord Gardiner during Invasive Species Week.
The Asian hornet is a predator of various invertebrates including pollinator insects and is identified as a high-risk non-native species due to its threat to native biodiversity. It arrived in France in 2005 and quickly spread to Spain in 2010. The first Asian hornet recorded in the UK was seen on 19 September 2016 when it was spotted in Tetbury, Gloucestershire.
Image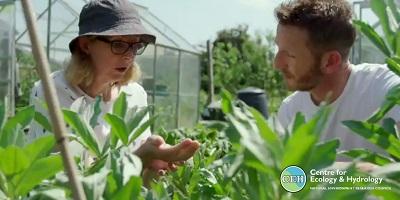 You can watch Prof Roy on Gardener's World via the iPlayer
Professor Roy said, "Early warning of non-native species that have the potential to threaten biodiversity is extremely important. People from across the UK have been playing a vital role in recording non-native species and we hope this new app will make it even easier to submit possible sightings of one particular non-native species - the Asian hornet."
Use the app or online recording
The Asian Hornet Watch app is a tool which is available in addition to the GB Non-Native Species Information Portal (GB-NNSIP) developed by the Biological Records Centre at CEH and funded by Defra.
The Asian Hornet Watch app can be downloaded for free for Android via Google Play and for iOS via iTunes.
You can also record sightings through the Biological Records Centre website or by emailing alertnonnative@ceh.ac.uk