May was fairly typical in terms of rainfall and temperatures for the month as a whole, but saw a marked contrast between the cool, unsettled weather which characterised the first three weeks and the hot, dry conditions which followed.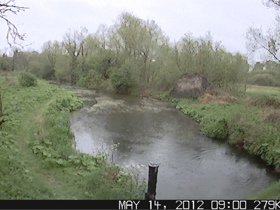 The above analysis is contained within the latest monthly hydrological summary (for May 2012) produced by the National Hydrological Monitoring Programme, operated by the NERC Centre for Ecology & Hydrology in conjunction with the NERC British Geological Survey.
As in April, prolonged frontal rainfall was associated with widespread spates, and flood alerts were common during the first half of the month. The rainfall accumulated since early April greatly reduced the areal extent of drought conditions. Parts of the Midlands, Yorkshire and the Southwest were downgraded from official drought status, and some closed parts of Grand Union canal were reopened to navigation.
Terry Marsh, from the NERC Centre for Ecology & Hydrology (CEH), said, "The unusual extension of the recharge season into the early summer has also prompted a welcome recovery in groundwater resources, although the effect of the previous dry winters continues to manifest itself in locally depressed groundwater levels."
The substantial rainfall since March and attendant runoff response have contributed to a generally favourable water resources outlook for summer 2012, with an increase in reservoir levels leading to England and Wales stocks 3% above average entering June.
The warm temperatures of the latter part of the month signalled an apparent cessation of further recovery but, with exceptional rainfall already received in early June and an outlook broadly favouring wetter conditions, diminishing soil moisture deficits may allow opportunity for further infiltration and a more widespread recovery in groundwater resources.
The Centre for Ecology & Hydrology jointly operates the National Hydrological Monitoring Programme (NHMP) in conjunction with the British Geological Survey. NHMP scientists produce the UK Monthly Hydrological Summary which assesses rainfall, river flows, groundwater and reservoir levels. They also operate the National River Flow archive. The NHMP has a remit to analyse major flood and drought events in the UK and analyse long term trends in UK hydrological data. The Programme was set up in 1988 and relies on the active co-operation of measuring authorities throughout the UK.
Additional information
Read the full May 2012 Hydrological Summary for the UK [PDF, 1.88MB]
Hydrological summary archive - dating back to March 1997
Details of the National Hydrological Monitoring Programme
Datasets hosted by CEH: National River Flow Archive, National Water Archive and others
Media enquiries related to the Hydrological Summaries should be directed to the CEH Press Office. Our scientists can provide explanation and analysis of historic hydrological patterns, possible future scenarios under climate change and scientific understanding of the current situation. We are not able to comment on immediate operational issues.
If you wish to reproduce figures from the Monthly Hydrological Summary please respect the copyright credits contained within the document.
You can follow the latest developments in CEH research via Twitter and our RSS news feed.