Acid rain was one of the world's worst pollution problems of the 1970s and 1980s, affecting large areas of upland Britain, as well as Europe and North America.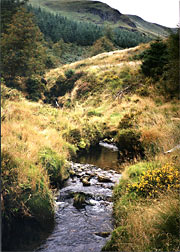 Over the last 20 years, action has been taken across Europe to clean up acid pollutants from power generation and industry, which was widely expected to bring recovery. However a recent study carried out by a combined team from Cardiff University, the Centre for Ecology & Hydrology and the National Museum Wales reveal that many streams are still highly acidified. Biological recovery has been particularly poor and the expected improvements in rivers are far short of expectations. Part of the study was carried out in Wales, where more than 12,000 km of streams and rivers have been acidified, harming fish, stream insects and river birds such as the dipper.
Dr Chris Evans, an acid-rain specialist based at the Centre for Ecology & Hydrology's research site in Bangor, commented "Pollution reductions are slowly improving in upland waters, but there is a long way to go. The large biological effects of acid episodes shown by this work mean that it is vital to continue monitoring these ecosystems if we are to protect them in future."
The research contrasts with other recent studies which showed some encouraging early signs and will come as disappointing news to those who thought the acid rain problem was solved.
Additional Information
The results of the work can be found in two recently published scientific papers:
R. A. Kowalik, D.M. Cooper, C. M. Evans & S. J. Ormerod (2007) Acid episodes retard the biological recovery of upland British streams from acidification. Global Change Biology.
B. R. Lewis, I. Jüttner, B. Reynolds & S. J. Ormerod (2007) Comparative assessment of stream acidity using diatoms and macroinvertebrates: implications for river management and conservation. Aquatic Conservation: Marine and Freshwater Ecosystems.
Science links
CEH Biogeochemistry Science Programme