A relentless sequence of storms, record rainfall and sustained very high river flows in parts of the UK meant that December was an extraordinary month in both meteorological and hydrological terms, with widespread and severe flooding in many areas.
December 2015 facts and figures
New 24-hour rainfall record for UK (341.4mm, Honister Pass)
New 48-hour rainfall record for UK (405.0mm, Thirlmere)
Wettest calendar month on record for UK (191% of December average) in a series from 1910
Largest ever flows recorded on English rivers (~1700 cumecs (cubic metres per sec) Eden, Lune and Tyne)
Highest peak flows on record for many northern rivers
New maximum daily outflow from the UK (in a series from 1980), a third larger than previous maximum
Warmest December in a series from 1910 (4.1C above average)
Exceptionally stormy and wet conditions across the north contributed to the wettest calendar month on record for the UK (in a series from 1910). Slow-moving low pressure systems driven by a sustained moist south-westerly airflow brought prolonged heavy rainfall to northern and western areas. The spatial scale of sustained very high flows was remarkable; many large catchments in northern Britain recorded their highest ever peak flows and/or monthly mean flows. The three largest flows ever registered in river flow records for England occurred on the Eden, Lune and Tyne.
The assessment is contained in the latest monthly hydrological summary for the UK, the most authoritative analysis of water resources status in the country. The monthly summaries are produced by the National Hydrological Monitoring Programme, operated by the Centre for Ecology & Hydrology in conjunction with the British Geological Survey.
A short supplementary analysis with extra details of the hydrological impacts of the storms is also available on our blog.
Image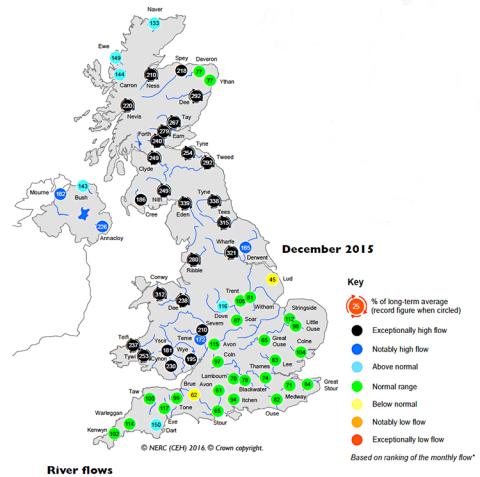 Chart: Black dots indicate exceptionally high flows on numerous rivers in the northwest. Many of the flows represent record figures for the gauging stations concerned (record lengths vary).
The persistent unsettled weather (including the named storms 'Desmond', 'Eva' and 'Frank') caused widespread and repeated flooding, bringing significant disruption to transport, utilities and agriculture and flooding thousands of homes.
'Desmond' established new UK rainfall records over 24-hour (341.4mm at Honister Pass, Cumbria) and 48-hour (405.0mm at Thirlmere, Cumbria) timeframes. Prolonged and often intense rainfall across a large area of upland northern Britain contributed to substantial rainfall totals in many regions. Saturated soils resulting from substantial November rainfall exacerbated the fluvial flooding which followed in December.
Summary author Simon Parry added, "The wettest parts of the UK were away from the main aquifers, although groundwater levels increased sharply in some boreholes in the north. Reservoir stocks in north-west England doubled since the end of October, and end of December stocks for England & Wales were appreciably above average.
"With the exceptional wetness and flooding continuing into January in parts of northern Britain, the risk of further flooding in early 2016 remains high."
Image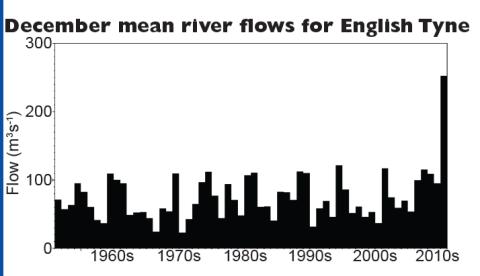 A PDF of the full 12-page December 2015 summary can be downloaded here.
A supplementary analysis of the hydrological impacts is also available
and on our blog.
The monthly summary is a look back at hydrological events occurring in December 2015. Latest information on flood warnings is provided by the Environment Agency, Natural Resources Wales and Scottish Environment Protection Agency (flood warnings for Northern Ireland are not available).
The Centre for Ecology & Hydrology jointly operates the National Hydrological Monitoring Programme (for the UK) in conjunction with the British Geological Survey. NHMP scientists produce the UK Monthly Hydrological Summary which assesses rainfall, river flows, groundwater and reservoir levels. They also operate the UK's National River Flow archive.
The NHMP also has a remit to analyse major flood and drought events in the UK and analyse long-term trends in UK hydrological data. The UK Monthly Hydrological Summary is normally published on, or before, the tenth working day, of the following month. A Hydrological Outlook for the UK is also available, and is updated monthly. The outlook published in January 2016 can be viewed here.
Additional information
Media enquiries related to the Hydrological Summaries should be directed to the CEH Press Office. Our scientists can provide explanation and analysis of historic hydrological patterns, possible future scenarios under climate change and scientific understanding of the current situation. We are not able to comment on immediate operational issues.
If you wish to reproduce figures from the Monthly Hydrological Summary please respect the copyright credits contained within the document.
Related CEH news and blog posts
The science behind flooding - 7 Jan 2016
North West floods hydrological update - 8 Dec 2015