A synthesis report for policy makers
A project set up by PEER, the Partnership for European Environmental Research, to examine some of the knowledge gaps that exist in assessing ecosystem services in Europe has published its second report for policy makers.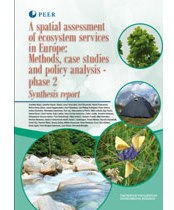 Launched in 2010, the PRESS initiative demonstrated how European researchers, including social scientists, economists, and ecologists, can combine their expertise to map and assess the natural, social and economic values of ecosystems services.
The first phase of the study, which was concluded in September 2011 with the publication of a first PRESS report, demonstrated methodologies to map the role of ecosystems as providers of clean water and recreation and investigated how ecosystem services can be mainstreamed into agriculture, fisheries or forestry policies.
The second and final phase of the study consisted of case studies carried out on pollination, recreation and water purification to explore how assessment methods to measure and map ecosystem services might be developed at multiple spatial scales.
The results of this research initiative were presented in Brussels on 13 September to an international panel of experts which helps DG Environment of the European Commission with the implementation of the EU Biodiversity Strategy to 2020. The report prepared to describe these results outlines a strategy which aims to promote a better understanding of how ecosystems and biodiversity provide essential benefits to our society.
The PRESS project was coordinated by the Joint Research Centre (JRC), Alterra Wageningen UR and the Helmholtz Zentrum für Umweltforschung (UFZ).
PEER comprises seven research groups from around Europe, including the Centre for Ecology & Hydrology (CEH).
Additional information
To read more about the the PRESS-2 Synthesis report and download a copy please visit the PEER website.
Eight CEH scientists to the second stage of the press project, Dr Peter Henrys, Dr Iwona Cisowska, Dr Simon Smart, Dr Paul Scholefield, Professor Richard Pywell, Dr Mike Hutchins, Dr Adam J. Vanbergen and Dr David Roy.
You can follow the latest developments in CEH research via Twitter and our RSS news feed.