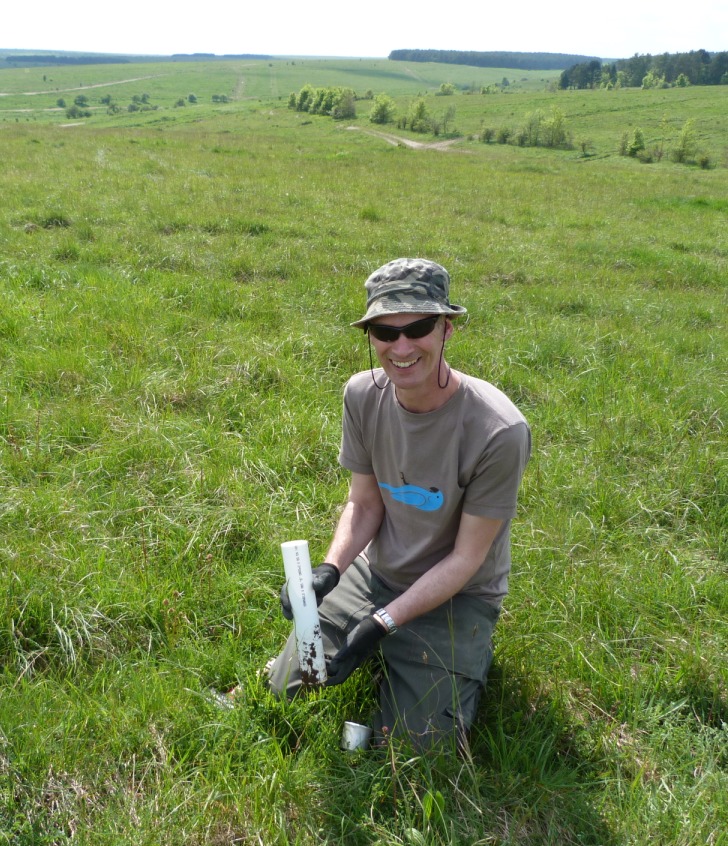 Professor Richard Pywell from the Centre for Ecology & Hydrology has been awarded a RSPB Conservation Science award, recognising his work on wildlife-friendly farming and crop yields. The award relates to a scientific paper published in late 2015 in the journal Proceedings of the Royal Society B.
This year the RSPB science team nominated 10 papers for the Conservation Science award award and after short-listing five, staff voted for their winning paper. Prof. Pywell received a specially commissioned medal at the RSPB annual conservation science awards ceremony at ZSL, London.
Dr Will Peach, Head of the RSPB Research Delivery team, who nominated the paper said, "This paper elegantly demonstrates the potential for wildlife-friendly farming to boost agricultural production yields as well as the target wildlife. The team from the Centre for Ecology and Hydrology and the Wildlife Farming Company converted 8% of commercial arable farmland to habitats supporting pollinating and predatory insects. Amazingly, the food production lost from the 8% land conversion was offset by a 35% increase in the yield of beans, a crop which is partially dependent on insect pollination for seed production. The provision of native wildflowers and grasses around field edges led to a four-fold increase in crop pollinating insects including long-tongued bumblebees which are the most effective pollinators of beans."
Dr Peach added, "Although previous studies have shown similar pollinator benefits for fruit crops, this is the first study to demonstrate such effects in an arable context. By showing that wildlife-friendly farming can enhance crop yields, this study will hopefully convince many more farmers to provide habitats for wildlife in the less productive parts of their farms".
Professor Pywell said, "Both RSPB and the Centre for Ecology & Hydrology share a common goal of improving conservation through excellent science. I am therefore honoured and delighted to receive this prestigious award on behalf of my research team. Proving that wildlife conservation is compatible with and beneficial to commercial farming has been a major achievement, built on a partnership between practitioners and applied scientists. We believe this finding will have important implications for the future sustainability of agriculture."
Additional information
The paper that won the award is Pywell et al. "Wildlife-friendly farming increases crop yield: evidence for ecological intensification" published in Proceedings of the Royal Society B in 2015
Staff page - Professor Richard Pywell
The RSPB give three annual awards to recognise and celebrate excellence in conservation science.
Awards are given for:
an outstanding PhD thesis in conservation science
a scientific paper of high conservation value
an outstanding contribution to RSPB science by one of our the RSPBs scientists.