Professor Mark Bailey has been appointed on a permanent basis to the position of Director of the NERC Centre for Ecology & Hydrology (CEH). The appointment will take effect from 1 August 2012. Professor Alan Jenkins will continue in his role as CEH Deputy Director.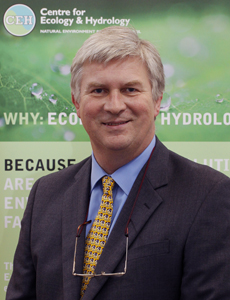 Professor Bailey said, "I am delighted to take on the role of CEH Director in a permanent capacity. I would like to take this opportunity to thank all CEH staff for their support over the last 18 months while I have carried out the role of acting Director CEH. This has been a most enjoyable period and I will continue working with staff, funding bodies and our stakeholders, to maintain and promote the excellent science carried out within the organisation."
NERC Chief Executive, Professor Duncan Wingham, said, "Mark has made a very substantial contribution to both CEH and NERC's corporate activities since taking over as acting Director last year. He is well respected within NERC, with the research community and other stakeholders. His knowledge and dynamism will ensure CEH continues to evolve as an internationally–renowned research centre.
Professor Bailey became acting CEH Director in March 2011 when Professor Pat Nuttall was appointed to a two-year post at NERC HQ in Swindon. Professor Nuttall will now take on a new role within NERC.
Professor Bailey added, "I wish Professor Nuttall every success in her new position at NERC. I particularly want to thank her for her dedication and leadership over the last decade which has helped to make CEH a highly successful and vibrant organisation."
Professor Wingham added, "I should like to express my thanks to Pat for her exceptional work in developing and shaping CEH into a world-class research centre, with an enviable reputation in its field."
Additional information
Further information on this appointment is available on the NERC website.
Further information on Professor Mark Bailey
You can follow the latest developments in CEH research via Twitter and our RSS news feed.