Professor Jeremy Thomas, a Professorial Fellow at the Centre for Ecology & Hydrology, has been given the Marsh Award for Ecology at this year's British Ecological Society AGM.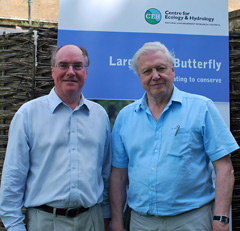 The award recognised Prof Thomas's work on butterfly conservation and mutualism. He led the pioneering research which resulted in the successful reintroduction of the Large Blue butterfly to Britain.
Prof Thomas, now a Professor of Ecology at the University of Oxford, was based at CEH's research site in Dorset for many years. He began studying Britain's last remaining Large Blue colonies in the 1970s. Although it was extinct in Britain by 1979, Prof Thomas and CEH colleagues used their research into the butterfly's life cycle to successfully introduce new colonies in the 1980s. By 2008, the butterflies occupied 30% more colonies than they had in the 1950s, before the major decline began.
The Large Blue remains one of the world's most threatened species. The British reintroduction was based on major scientific breakthroughs, and saw the development of a pioneering model for insect conservation which is now being used to restore rare butterfly species across Europe.
The British Ecological Society Annual Meeting took place in Leeds from 7-9 September. Hundreds of ecologists from around the world gathered for what is Europe's largest ecological conference.
Additional information
Professor Jeremy Thomas is a CEH Fellow and a Professor of Ecology at the University of Oxford
Related CEH links
Feature: On a Wing and a Prayer
Paper highlights remarkable efforts to save butterfly from extinction