A new £7m centre of excellence for environmental science was officially opened in Bangor today by the Prime Minister Gordon Brown.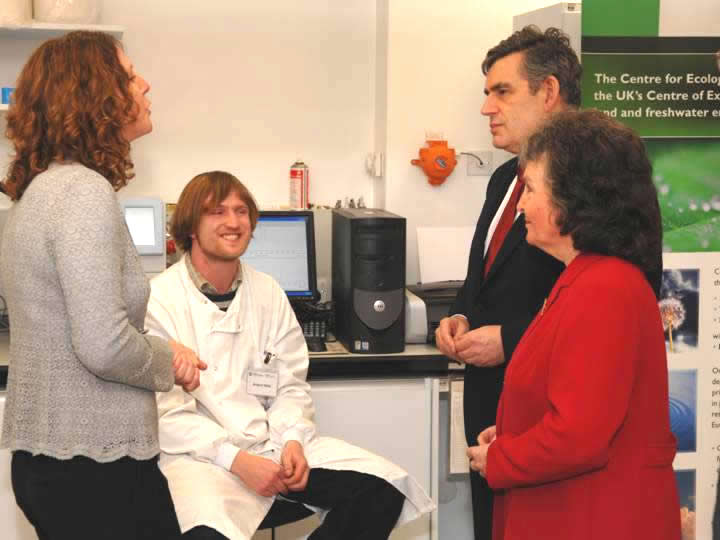 'Environment Centre Wales' brings together the scientific expertise of NERC's Centre for Ecology & Hydrology (CEH) and Bangor University. Housed in a new, purpose-built laboratory on the university campus, the centre will allow CEH and University staff to work together more closely to provide a focal point for environmental research and training in Wales.
Environment Centre WalesMr Brown said, "Protecting the global environment is a critical foundation for our future security." He told the gathering of CEH and University staff, "The work that you do here is absolutely crucial."
Professor Alan Thorpe, Chief Executive of the Natural Environment Research Council said, "With changes in the global climate and increasing pressures on natural resources, our world is facing some tough challenges in the years ahead. The NERC research community is striving to provide the knowledge that will enable the solutions needed to tackle these challenges. At the same time we are playing our part in reducing our own environmental footprint. This partnership goes some way to achieving these goals. The Environment Centre Wales not only provides state-of-the-art laboratory facilities and equipment to do the research, but also benefits from a range of features that will reduce the building's environmental impact. I am delighted that our vision for this centre is now a reality."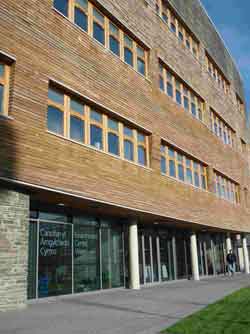 The new centre brings together and builds on the strengths of the two organisations. It provides fresh opportunities for research spanning the boundaries of terrestrial, freshwater and marine sciences, to develop new approaches to managing both the land and sea in a sustainable way.
Prime Minister Gordon Brown, Professor Alan Thorpe (NERC) and Professor Merfyn Jones (Bangor University)Additional funding has been invested to ensure this building demonstrates many aspects of environmental and sustainable construction.
Dr Bridget Emmett, Head of the CEH site at Bangor said: "This Centre is built with the environment in mind. For example, photovoltaic panels have been installed to generate electricity from sunlight, ground-source heat pumps air-condition the building using minimal energy and at low cost, and a rainwater recovery system is used to reduce dependency on mains water supply."
The design also addressed the needs and wishes of the people who work in the building. Results from a staff survey indicate that natural light, better ventilation, improved storage areas, modern equipment and an environment that would encourage interaction between the CEH and University staff were all important factors to be taken into consideration. The final design was commended by the Design Commission of Wales.
Additional information
Media enquiries about this work should be directed to the Centre for Ecology & Hydrology Press office.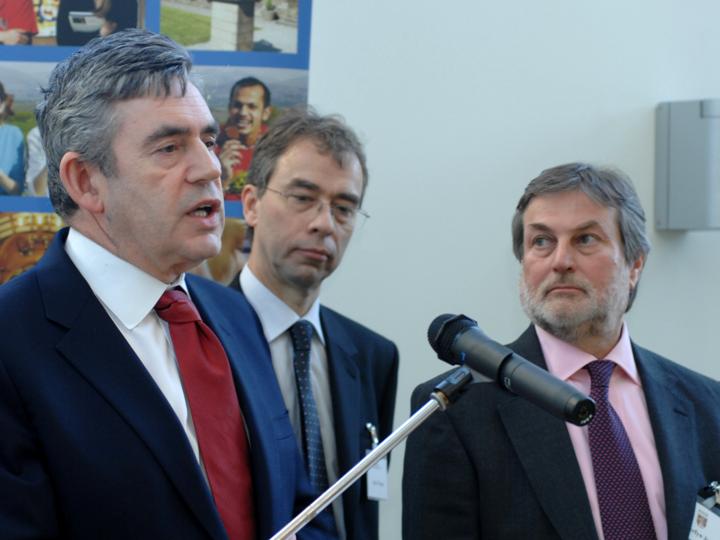 Press release (issued jointly by Bangor University and the Natural Environment Research Council)
Watch the opening ceremony on YouTube
The Building
Purpose built, completed in 2007 and complying with the highest environmental assessment rating from the Building Research Establishment (BRE) for its design and construction elements.
The BRE Environmental Assessment Method (BREEAM) is one of the world's leading systems for assessing the range of environmental impacts associated with buildings. From the outset, the goal was to achieve an 'Excellent' rating for its design, which uses 'A' grade materials, energy efficiency measures, natural light and renewable energy technologies.
Examples are:
The Photovoltaic panels installed to generate electricity from sunlight.
Ground-source heat pumps that heat the building using minimal energy.
A rainwater recovery system is used to reduce demands on mains water supply
A combined heat and power plant increases the efficiency of the use of fossil fuels for heating and hot water.
The landscaped site uses native trees, shrubs and grass mixture, to provide a positive environment for both people and local wildlife.
The Science
Environment Centre Wales brings together 120 environmental scientists and students including Centre for Ecology & Hydrology staff based in Wales and academics from Bangor University, whose combined scientific knowledge and experience will cut across traditional scientific boundaries. This innovative way of working helps find solutions for the environmental problems we face. Areas we will be focusing on include:
Transfers and impacts of nutrients and contaminants from the mountains to the sea: Our land, rivers and coastal areas are closely connected but have traditionally been studied and managed separately. ECW will bring together scientists who specialise in the flows of carbon, nutrients and contaminants within and between these different ecosystems and develop modelling approaches to predict future trends with a particular focus on climate change.
Molecular Ecology and Evolution: ECW will provide a common technology platform and range of expertise on molecular technologies, such as gene sequencing, genetic fingerprinting and genomics to address questions about the impact of man-made and natural environmental change on organisms in these different environments. The fact that genetic diversity can be examined in all biota, will allow integration of research effort cross traditional taxonomic boundaries.
Management of resources: Our focus will be on identifying the drivers and consequences of changes in resource management in low production but heavily exploited systems. Key developments to be evaluated include new systems of land management including agri-environment schemes, catchment sensitive farming, novel crop systems and increased tree cover and their sustainability under a changing climate and air pollution. This will involve the integration of our first two science areas with socio-economic expertise to identify impacts on human users and key resources such as soils and water.