The CEH-run Predatory Bird Monitoring Scheme has recently been instrumental in developing a new collaborative network that involves the various different UK surveillance schemes that monitor disease and contaminants in vertebrate wildlife.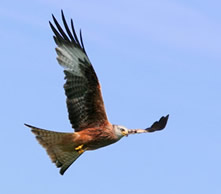 The network, called WILDCOMS (Wildlife Disease & Contaminant Monitoring and Surveillance), has secured initial funding through a Knowledge Exchange grant from the Natural Environment Research Council (NERC).
Its aims are to:
provide a focal point for disease and contaminant monitoring in wild vertebrates

provide an integrated overview of the health status of UK wild vertebrates

facilitate collaboration between WILDCOMS network partners

facilitate identification of disease and contaminants of emerging concern
It is anticipated that WILDCOMS will benefit a wide range of stakeholders. It will bring together disparate strands of information and thereby provide a more holistic view of the health status of UK wildlife.
WILDCOMS recently held its launch meeting and established a presence on the internet where information on the network partners is available. This website [anchor link] will be developed and expanded in the coming months and will include quarterly newsletters.
The Predatory Bird Monitoring Scheme, based at CEH's Lancaster site, is a long-term, national monitoring scheme that quantifies the concentrations of contaminants in the livers and eggs of selected species of predatory and fish-eating birds in Britain. It is funded by CEH, Natural England, the Environment Agency, the Royal Society for the Protection of Birds and the Campaign for Responsible Rodenticide Use.
Additional information
Predatory Bird Monitoring Scheme website
PBMS - which species are analysed?
You can follow the latest developments in CEH research via Twitter and our RSS news feed.