Last week, staff from the Centre for Ecology & Hydrology joined more than 200 scientists from 66 European research institutes and more than 25 countries to work with European policymakers to develop scientifically sound, evidence-based recommendations on how to implement and realize the 2020 European Biodiversity Strategy.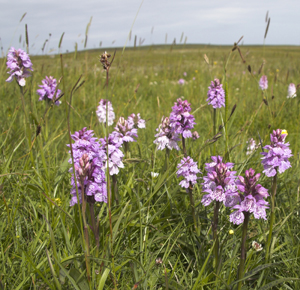 The scientists and policymakers were participating in a conference organized by the European biodiversity research network ALTER-Net, of which CEH is a partner, and the European Commission.
During the course of the meeting 50 recommendations were put forward and six principal ones were distilled into a closing statement – one for each European Biodiversity target. The six final recommendations were deemed by conference participants to be the most urgent and important requirements to enable Europe to meet its biodiversity targets for 2020 and beyond.
European Commission representatives agreed to use the conference's recommendations within the European policy development arena.
The six recommendations are:
EU target 1: Ecosystem health is the key to Natura 2000 (the EU's network of protected areas), together with genetic health of its species; both are extremely important for human health

EU target 2: Mapping ecosystems and valuing their services is seen as beneficial in most cases, but there remains great concern about economic valuation and merchandising of biodiversity

EU target 3: Knowing which problems need standard approaches and which need targeted approaches is vital to be able to apply effective regulation and innovative, diversified solutions

EU target 4: Science is the engine to generate adaptive management tools to optimise sustainable and ecosystem-based fisheries rather than management based on a single species approach

EU target 5: Policy should aim at the broad impact of Invasive Alien Species and their interaction with native biodiversity, health and food production, rather than on details: the first challenge is to develop legal and economic instruments

EU target 6: The price of food, fibre and water should encompass both the production and maintenance cost of the ecosystem.
Additional information
ALTER-Net brings together 26 leading scientific institutes from 18 European countries. They share the goal of integrating their research capability to assess changes in biodiversity, analyse the effect of those changes on ecosystem services and inform the public and policymakers on the issues at a European scale. Originally funded by the European Union's Framework VI program to stimulate a collaborative approach, ALTER-Net is now operating independently.
Being an independent science-policy interface network working on biodiversity and ecosystem (services) issues, ALTER-Net wants to positively help the EU in realizing their biodiversity targets by providing its scientific knowledge, e.g. by pointing out possible weaknesses, opportunities and necessities, and by helping to find solutions and evidence-based actions.
CEH Science News Blog post on our participation in the ALTER-Net conference
You can follow the latest developments in CEH research via Twitter and our RSS news feed.