An unexplained population explosion of snake pipefish is occurring in the seas around northern Britain. But the abundance of these fish will not prevent large numbers of puffins, terns and kittiwakes from starving to death.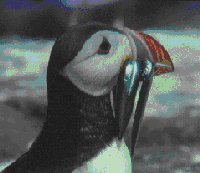 In a paper submitted to the journal Marine Biology, an international team of scientists led by Professor Mike Harris from the Centre for Ecology & Hydrology in Banchory, reports a dramatic increase in pipefish numbers over the past few years. Pipefish were once rarely seen in British waters but are now frequently caught in trawler nets, with numbers rising 100 fold since 2002, according to some surveys.
Professor Harris said, " Only in the last 3 years or so have snake pipefish been recorded in the diet of many species of seabird. These include puffins, terns and kittiwakes breeding in colonies around UK coastlines, and in Norway, Iceland and the Faeroe Islands. 2006 seems to have been a bumper year, at least in northern Britain, and there is evidence that these birds are turning to the pipefish when their normal prey are in short supply."
Breeding failures at seabird colonies off the east coast of Britain are becoming common and are thought to be due to low availability of sandeels, their usual and preferred food source. The reasons behind this reduced availability are complex but include effects due to the presence of the North Sea sandeel fishery and climate change.
Professor Harris is pessimistic that the availability of snake pipefish will provide an alternative source of nutrition for the birds during their breeding season. The snake pipefish can grow to more than 50cm in length with hard, armour-cased bodies and many seabirds have great difficulty in swallowing them.
Additional Information
Press release "Pipefish population explosion will not save starving seabirds"
CEH Seabird population ecology: Current research