If the ecology of the River Thames is to reach the Water Framework Directive's "good ecological status", then significant reductions in soluble reactive phosphorus (SRP) concentrations as well as increased shading from riparian tree cover may be required. This is the conclusion of a new study published in the journal Science of the Total Environment which was led by Dr Mike Bowes, an environmental chemist at the Centre for Ecology & Hydrology.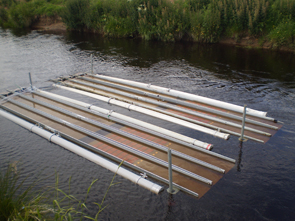 Average SRP concentrations in the River Thames, south east England, have decreased by 90% in the last decade, primarily due to the introduction of phosphorus removal at sewage treatment works within the catchment. However, despite this significant improvement in water quality, algal blooms in the river have greatly increased in recent years, to levels observed in the 1980s.
Dr Bowes said, "We carried out a series of within-river flume experiments to determine the effect of reducing phosphorus concentrations and light levels on algal growth rate. This showed that summer SRP concentrations needed to be reduced from the present 225 µg / L to below 90 µg / L before algal biomass would be reduced in the Thames, and algal community structure only responded when phosphorus concentrations were reduced to 30 µg / L. Reducing light levels by shading reduced the periphyton accrual rate by 50%."
Phosphorus reductions of the level indicated in this experiment are costly and difficult to achieve for the River Thames, due to the high population density and intensive agriculture within the Thames basin, but the research team concluded that providing shading along the upper river by planting riparian tree cover could be an effective measure to help reduce the risk of excessive algal growth in the lower reaches.
The study was carried out by scientists from the Centre for Ecology and Hydrology and Queen Mary, University of London. This project was funded by the Natural Environment Research Council.
Additional information
CEH's Press Office issued this story as a Media Briefing.
The full paper reference is: Bowes MJ, Ings NL, McCall SJ, Warwick A, Barrett C, Wickham HD, Harman SA, Armstrong LK, Scarlett PM, Roberts C, Lehmann K, Singer AC. 2011. Nutrient and light limitation of periphyton in the River Thames: Implications for catchment management. Science of the Total Environment. doi: 10.1016/j.scitotenv.2011.09.082
You can follow the latest developments in CEH research via Twitter and our RSS news feed.