Congratulations to Will Brownlie, a PhD student within the Freshwater Ecology Group at CEH in Edinburgh and Heriot-Watt University, for winning the best poster prize at the recent Scottish Environmental Technology Network's 7th Annual Environmental and Clean Technology Conference in Edinburgh. The conference focused on the importance of "circular economy" approaches in dealing with environmental problems where current wastes are viewed as potential resources. Will presented a poster highlighting the importance of understanding human behaviour when considering forms of phosphorus in private sewage systems in the Loch Leven catchment.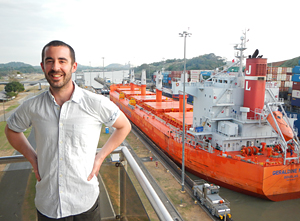 The event was attended by more than 200 invitees from academic, government and industry backgrounds.
Will said, "I was delighted to win this prize, especially as there were so many excellent projects exhibited. My work has highlighted how our life choices determine our pollution footprint using phosphorus composition in septic tanks as an indicator. The work has demonstrated the potential for small changes in human domestic behaviour to have significant impacts on the phosphorus pollution from these sources. More generally, this research may be used to help reduce the impacts of phosphorus pollution on sensitive aquatic ecosystems and also to improve the efficiency of domestic phosphorus use. The need to consider current phosphorus-rich wastes as potential future resources is an important area of research that I hope to develop in the future."
Will Brownlie is supervised by Dr Bryan Spears (CEH) and Prof Sue Roaf (Heriot-Watt). Will has also recently given invited presentations at the Organic Phosphorus 2013 Conference in Panama, hosted by the Smithsonian Tropical Research Institute, and the Scottish Freshwater Group hosted by CEH.
Additional information
Poster image: The phosphorus footprint: does human behaviour affect the quantity and composition of phosphorus we produce [jpg]
Scottish Environmental Technology Network
Organic Phosphorus 2013 Conference
Related CEH links
Private sewage systems and planning policy - invited conference presentation [PDF, 2.52MB]
Private sewage systems and planning policy.pdf
Loch Leven restoration case study

You can follow the latest developments in CEH research via Twitter and our RSS news feed