Scientists from the Centre for Ecology & Hydrology (CEH) are asking the public to help them learn more about pollinators by taking part in the National Farm Pollinator Survey this weekend.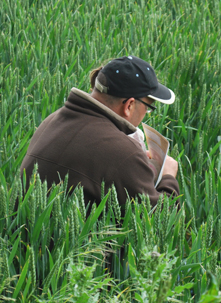 Insects such as bees, wasps, hoverflies and butterflies are critical for the growth of 80% of crops like fruit and vegetables and are therefore vital to British farmers, yet we still have much to learn about their complex ecology.
Experts from CEH are encouraging visitors to farms on Open Farm Sunday (June 9) to count the number and type of insects they see in different habitats, both in field margins or on crops.
People across Britain recorded a staggering 16,000 insects during the first ever national farm Pollinator Survey conducted during last year's Open Farm Sunday and the 2013 survey will build on this citizen science success. Dr Helen Roy from CEH, who is leading the research in conjunction with LEAF (Linking Environment And Farming), the organisers of Open Farm Sunday, explained why the Pollinator Survey is important: "Many people are concerned about the declines that have been observed for many groups of insects over the last decade. Insects that play a vital role in pollination are no exception.
"It is so important that we monitor these insects and the information we can collect year on year through the Open Farm Sunday National Pollinator Survey will make a fantastic contribution to our understanding of insect populations."
The Pollinator Survey is also another great way for the public to discover the story behind their food, said LEAF's Chief Executive, Caroline Drummond. She explained, "Open Farm Sunday offers a fantastic opportunity for visitors to meet farmers and see at first hand what goes into producing sustainable food for us all to eat. This includes managing the countryside and enhancing habitats for all the wildlife that live there. From field margins and hedgerows to woodland, ponds and footpaths, British farmers care for six million hectares of the British countryside which has a significant impact on food production."
The national farm Pollinator Survey will be held on selected farms across Britain on Sunday 9 June. The survey is organised by the Centre for Ecology & Hydrology and LEAF, and supported by Cotswold Seeds, who supply a wide range of seeds to farmers and help them create the best possible habitats for wildlife. To find a farm offering the survey, search for a farm to visit and select 'pollinator survey' in the farm highlights.
Hundreds of farms across Britain will be opening their gates to the public on the day. Each event is different, with a range of activities including farm tours, nature walks, milking demonstrations, sheep shearing and tractor and trailer rides. There's also the chance to get close to some of the incredible machinery that is used on a modern farm. Many visitors will also meet not only the farmer but some of the many other skilled individuals a farmer works with every day, such as vets and agronomists (plant doctors).
Additional information
Open Farm Sunday visitors become citizen scientists: results from the first national farm pollinator survey - 18 December 2012
Identifying insects on flowers - YouTube video featuring Dr Helen Roy
More details on the 2012 survey from the CEH Blog
Creating a buzz: the first ever national farm pollinator survey - 8 June 2012
Pollinators, the public and putting your MSc project in the hands of the elements - 12 June 2012
One week on: reflections on the first national farm pollinator survey - 25 June 2012
You can follow the latest developments in CEH research via Twitter and our RSS news feed