Truly exceptional weather conditions were experienced across some areas of the UK during November 2009 leading to severe flooding in Cumbria and several other parts of England, Wales and Scotland.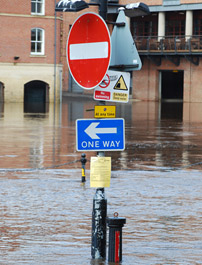 The latest Monthly Hydrological Summary for the UK, for November 2009, was published last week. The Monthly Hydrological Summaries are published as part of the National Hydrological Monitoring Programme, operated jointly by the Centre for Ecology & Hydrology and the British Geological Survey.
The November Summary introduction reads, "November was a singular month in hydrological terms; it was notably warm but with very boisterous weather conditions and exceptionally high rainfall across most of the country. The UK registered its wettest November on record (in a series from 1914) and, more remarkably, a new 24-hr maximum rainfall for the UK was established in the Lake District. Severe flooding affected Cumbria and parts of Scotland and floodplain inundations were both common and widespread.
"The sustained high runoff rates generated an exceptionally high (>10%) monthly increase in overall reservoir stocks for England & Wales, leaving them at their 4th highest early-December level in a series from 1988. Below average early-winter stocks in index reservoirs are restricted to a few reservoirs in the English Lowlands (e.g. Rutland and Bewl). November runoff totals exceeded previous maxima in many catchments and, with soil moisture deficits rapidly eliminated, the belated seasonal onset of aquifer recharge gathered considerable momentum through the month; some dramatic increases in groundwater levels were reported.
"Entering the winter, the water resources outlook is notably healthy in almost all regions but, with catchments generally saturated, many river basins are very vulnerable to further significant rainfall."
An archive of previous monthly hydrological summaries is available on the 'Water Watch' section of this website.
The Centre for Ecology & Hydrology jointly operates the National Hydrological Monitoring Programme in conjunction with with the British Geological Survey. NHMP scientists produce the UK Monthly Hydrological Summary which assesses rainfall, river flows, groundwater and reservoir levels. They also operate the National River Flow archive. The NHMP also has a remit to analyse major flood and drought events in the UK and analyse long term trends in UK hydrological data.
Additional Information
Media enquiries about this work should be directed to the Centre for Ecology & Hydrology press office.
Our scientists can provide explanation and analysis of historic flooding patterns, possible future scenarios under climate change and scientific understanding of the current flooding situation. We are not able to comment on immediate operational issues.
Related links and news stories
Downloadable pdf file, November 2009 Monthly Hydrological Summary [PDF 2.10MB]
National Hydrological Monitoring Programme web pages (archive of previous monthly hydrological summaries) [NEED NEW INTERNAL LINK].
Map of the week: Very boisterous weather? - 15 December 2008 - BBC Home Editor Mark Easton discusses the November 2009 Summary in his blog
CEH Briefing Note: November 2009 Flooding (issued 20 November 2009)
Further details about the National River Flow Archive
Recent scientific paper by Hannaford and Marsh: High-flow and flood trends in a network of undisturbed catchments in the UK (subscription required)
Understanding Floods - CEH Information Leaflet [PDF]
CEH News story - Summer 2007 Floods: A Very Singular Event - 11 March 2008