The National River Flow Archive (NRFA) has launched new web pages, enabling improved public access to river flow data and associated information.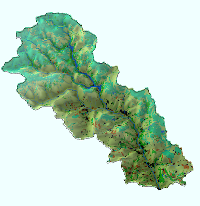 The NRFA, hosted by the Centre for Ecology & Hydrology, is the UK's focal point for hydrometric data. The NRFA collates, quality controls, archives, and disseminates daily and monthly river flow data from gauging station networks across the UK including the extensive networks operated by the Environment Agency (England and Wales), the Scottish Environment Protection Agency and the Rivers Agency (Northern Ireland). NRFA web pages receive more than 20,000 visitors per year.
On the new web pages river flow gauging stations can be found using an interactive map, or by searching on a wide variety of information, such as river name, catchment area, or catchment land use. Each gauging station has a set of pages giving access to the NRFA data holdings for the station and providing a wealth of knowledge about the uses and limitations of the flow data measured and factors influencing the flow regime such as rainfall and hydrogeology.
River flow data from more than 200 gauging stations can be downloaded directly from the web pages. The NRFA is currently in the process of validating the entire flow series from an additional 200 stations and these will also be made available online in the near future. In addition, data from all gauging stations on the NRFA (currently more than 1400) are available via the NRFA's enquiries service. Through this service, the NRFA is also able to provide advice and guidance on the use of river flow data and access to station metadata and other information to aid interpretation of river flows.
The new web pages provide comprehensive and free access to the outputs of the National Hydrological Monitoring Programme (NHMP), including monthly summaries of hydrological conditions and reports on major flood and drought events. They also feature new material providing a background to the UK gauging station network and to hydrometry in the UK.
Further enhancements are planned for the coming year, including improved mapping of catchment boundaries, river networks and spatial data layers such as rainfall and land cover.
Additional information
National River Flow Archive web pages
CEH's Data Holdings
You can follow the latest developments in CEH research via Twitter and our RSS news feed.