A new web-based tool has been created to help wetland managers in England and Wales project the impacts of climate change in the next 50 years. The tool is formally launched today, 2 February, World Wetlands Day.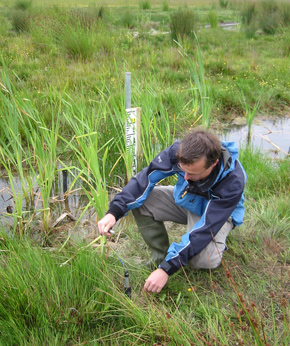 The Climate Change Assessment tool allows the user to plug-in various details of their wetland, such as geographical location, wetland type and subject of interest (plants, birds, archaeology etc.). Water source is one key input; currently the tools works for rainfall and river wetlands, functionality for groundwater-fed wetlands will follow shortly.
The tool uses data from the UK Climate Projections programme and interactive results are presented based on 10,000 realisations of future climate. The outputs show whether there is likely to be large, medium, or negligible impact on the wetland.
The tool was developed by scientists at the Centre for Ecology & Hydrology and its partners (Open University, British Geological Survey, University College London, University of Exeter with sponsorship from the Wetland Vision partnership (led by Environment Agency, with Natural England, English Heritage, Wildife Trusts, RSPB, Wildfowl and Wetlands Trust).
Project leader Professor Mike Acreman, from the Centre for Ecology & Hydrology, said, "The tool brings together our best available science and presents results in an easy to use form."
A prototype tool was trialled in June last year at the Wetland Futures conference held in Lancaster. Feedback from delegates was very positive and comments from trial users were taken on board to produce the current version.
Professor Acreman added, "Wetland conservation is a global issue, highlighted by World Wetlands Day on 2 February. Although the initial tool is directly applicable only to England and Wales, we plan to extend its coverage to other countries and regions in the near future."
Additional information
Climate Change Assessment Tool for Wetlands [NEED NEW INTERNAL LINK]
CEH research on wetlands [NEED NEW INTERNAL LINK]
External links
UK Climate Projections programme
Wetlands in the UK - Flickr group
You can follow the latest developments in CEH research via Twitter and our RSS news feed.