The Centre for Ecology & Hydrology (CEH) is leading one of seven new research projects announced today which will improve understanding of tree pests and pathogens, and associated plant biosecurity.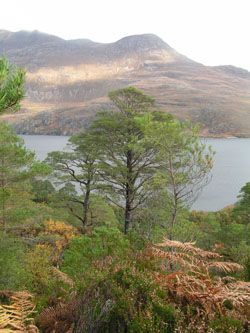 The projects have received a share of £7m to help address threats to UK forests, woods and trees. The multidisciplinary Tree Health and Plant Biosecurity Initiative (THAPBI) will generate knowledge to tackle pests and diseases and to support the future health of the UK's woodlands, commercial forests and urban trees.
One of the projects, Promoting resilience of UK tree species to novel pests and pathogens: ecological and evolutionary solutions (PROTREE), is led by Dr Stephen Cavers of the Centre for Ecology & Hydrology in a consortium also involving Forest Research, University of Edinburgh, James Hutton Institute, University of Aberdeen, Scotland's Rural College and the Royal Botanic Garden Edinburgh.
Dr Cavers said, "Trees face a whole range of problems – more new pests and diseases, climate change and forest fragmentation. These challenges are connected, so it is essential we try to understand them together if we want to protect tree health in the long term."
The PROTREE project will use the example of Scots pine, an important native tree species, to assess variation and evolution in three key threat species: the Dothistroma needle blight fungus, pine-tree lappet moth and the pine pitch canker fungus. It will explore the role of associated communities and the extent of genetic variation in determining Scots pine's resistance to these threats and, using new and existing field trials, measure the extent to which Scots pine populations may be able to adapt.
"Although there are many threats, trees are adaptable and resilient. We can use that adaptability to help our trees to cope with changes in the future," Dr Cavers added.
THAPBI is funded under the auspices of the Living with Environmental Change Partnership, with support from the Biotechnology and Biological Sciences Research Council (BBSRC), Department for Environment, Food and Rural Affairs (Defra), Economic and Social Research Council, Forestry Commission, Natural Environment Research Council and the Scottish Government.
The research will address knowledge gaps identified by Defra's Tree Health and Plant Biosecurity Expert Task Force and the objectives of the joint Defra/ Forestry Commission "Tree Health and Plant Biosecurity Action Plan". The projects will also ensure that the UK has increased research capacity in these areas.
Environment minister Lord de Mauley said, " Safeguarding the future of our trees and plants is enormously important – on more than one occasion we have seen the dreadful trail of destruction such diseases can leave behind. And it's not just the environment that suffers, but the economy too. It is vital we invest in research like this to better protect our precious woodland from the future threat of pest and disease."
Additional information
BBSRC issued a press release for this story
Promoting resilience of UK tree species to novel pests and pathogens: ecological and evolutionary solutions - PROTREE project details
Other projects funded under the £7m initiative are led by the John Innes Centre, Queen Mary University of London, Swansea University, University of Stirling, Food and Environment Research Agency, and Imperial College London.
You can follow the latest developments in CEH research via Twitter and our RSS news feed.