Nine projects worth a total of up to £10M from the Insect Pollinators Initiative were announced today (22 June 2010). These projects will explore the causes and consequences of threats to insect pollinators and ask questions about the decline of honeybees and other pollinating insects over recent years. The aim is to inform the development of mitigation strategies that will ensure that the pollination of agricultural and horticultural crops is protected and biodiversity in natural ecosystems is maintained.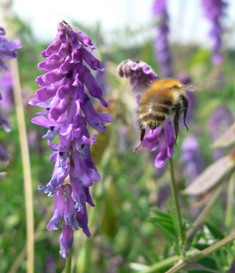 Dr Claire Carvell from the Centre for Ecology & Hydrology is leading the Insect Pollinators Initiative project, "Investigating the impact of habitat structure on queen and worker bumblebees in the field" along with Dr Matthew Heard. They are collaborating with scientists from the University of East Anglia and the Institute of Zoology, Zoological Society of London.
Dr Carvell said, "We will use genetic information from small amounts of bumblebee DNA to tell us about the relatedness of queen and worker bees across a landscape. This will allow us to unravel some fundamental aspects of bumblebee ecology that currently we know little about. The data will also provide us with the evidence needed to manage farmland in ways that are effective in conserving bumblebee populations and reversing declines."
CEH scientists Dr Dan Morton and Dr Simon Smart are involved in a second Insect Pollinators Initiative project, "Linking agriculture and land use change to pollinator populations", which is led by the University of Leeds.
Insects pollinate around a third of the agricultural crops grown globally and the total loss of insect pollinators could cost up to £440M per year in the UK (about 13% of the UK's income from farming). The causes of pollinator declines are likely to be complex and involve interactions between pollinators, the environment and the pests and diseases that affect these insects.
The nine projects funded by the Insect Pollinator Initiative will look at different aspects of the decline of insect pollinators. Some will focus on specific species and/or diseases; others will look more broadly at factors affecting the health and survival of some or all pollinating insects. The initiative brings together researchers from many disciplines including ecology, molecular biology, mathematics, and computing.
The Insect Pollinators Initiative is a joint initiative from the Biotechnology and Biological Sciences Research Council, the Department for Environment, Food and Rural Affairs, the Natural Environment Research Council, The Scottish Government and the Wellcome Trust, and is funded under the auspices of the Living With Environmental Change partnership.
Professor Andrew Watkinson, Director of the Living with Environmental Change programme, said, "To tackle a complex problem like the decline of pollinating insects, where there are a number of potential causes, requires wide-ranging research. That is why it is so important that a number of funding organisations have come together in this initiative to provide the essential breadth and critical mass of research that would not be possible if the individual funders worked in isolation. It has also allowed us to bring in new skills in gene sequencing and epidemiological modelling with the expertise that already exists in the pollinator research community. I am delighted to see the broad and innovative range of projects being funded."
Defra minister Lord Henley said, "Defra takes the health of Britain's insect pollinators including bees, butterflies and moths very seriously as they play an essential role in putting food on our tables through the pollination of many vital crops. This initiative will help some of our world-class researchers to identify why bee numbers are declining, and that will help us to take the right action to help. It is crucial we all work together on this and the biggest challenge will be to better understand the complex relationships between biological and environmental factors that affect pollinators' health and lifespan."
Additional information
More information on the Insect Pollinators Initiative
Further details of IPI project, "Investigating the impact of habitat structure on queen and worker bumblebees in the field" led by Dr Claire Carvell and Dr Matthew Heard from the Centre for Ecology & Hydrology can be found here together with a full list of IPI projects.
Parliamentary Office of Science and Technology POST note on Insect Pollination (pdf, published January 2010) - contributions from Dr Claire Carvell, Dr Matthew Heard and Dr Richard Pywell, all from the Centre for Ecology & Hydrology.
Related CEH links
CEH's Biodiversity Science Programme
Countryside Survey – run by CEH – a key data source for analysing changes in the terrestrial and freshwater ecology of Great Britain.
News coverage
Loss of bees could be 'a blow' to UK economy - BBC Online
Bee decline could be down to chemical cocktail interfering with brains - Guardian