A project set up by PEER, the Partnership for European Environmental Research, to examine some of the knowledge gaps that exist in assessing ecosystem services in Europe has published its first report.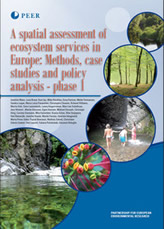 PEER comprises seven research groups from around Europe, including the Centre for Ecology & Hydrology (CEH). The new report from its PRESS project (PEER Research on Ecosystem Services) is entitled "A spatial assessment of ecosystem services in Europe: Methods, case studies and policy analysis" and looks at a selection of cases at different spatial scales to test and develop ways for mapping ecosystem services (essentially the benefits that people receive from nature, such as water purification and climate regulation) and the issues with embedding them into decision-making contexts.
PRESS has also investigated how the introduction of ecosystem services into biodiversity policy is likely to result in synergies and trade-offs with other policies regulating agriculture, fisheries or forestry, each of which has strong impacts on biodiversity and conservation.
The report includes an analysis of policy options, which shows that the perception of what services are provided by ecosystems varies according to the respondents, the geographical characteristics of the regions and the scales of decision-making.
During the rest of the project the PRESS research team will extend the mapping and policy analysis with scenarios and monetary valuation.
CEH scientists Mike Hutchins, Richard Williams and Egon Dumont were among contributors to the report, which is freely available to download in full [PDF, 5.9MB]. [NEED NEW INTERNAL LINK]
Additional information
More on the PRESS project
Related links
PEER climate change reports launched in Brussels - 23 June 2009
You can follow the latest developments in CEH research via Twitter and our RSS news feed.