The Centre for Ecology & Hydrology (CEH) is leading a community project to deliver a new online service which has been launched to help better manage the quality of water and ecosystems in the UK.
The service provides a comprehensive resource base with information on more than 100 datasets and 10 models and tools of practical help for local and national action by government and public agencies, utility companies and conservation organisations who manage and model water quality in catchments.
Image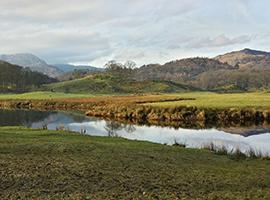 The Catchment Management and Modelling Platform (CaMMP) provides freely available data, models and tools which are used for informing decisions on catchment management for meeting targets for improving water quality. It also provides resources for exploring the wider impacts of these management practices for other benefits which catchments provide such as food production, carbon storage and habitat for our wildlife.
The Department for the Environment, Food and Rural Affairs (Defra) hosted the launch of the service which was attended by a range of organisations including the Environment Agency, Welsh and Northern Ireland Governments, 10 water utility companies and 14 different university and research organisations. 
Professor Bridget Emmett, the Project Leader from the Centre for Ecology & Hydrology, said, "Many land and water managers are facing a challenging situation trying to manage our catchments to deliver a complex mix of competing demands.
"These include targets for improving water quality for multiple pollutants, food security, carbon capture for climate change migration, and biodiversity.
"Our Community Forum identified key issues we should focus on which has ensured all the resources we have made available on the Platform are of practical help in answering real world problems."
"...all the resources we have made available on the Platform are of practical help in answering real world problems." Prof Bridget Emmett, Centre for Ecology & Hydrology
Professor Jack Cosby, who specialises in integrated catchment management and soil systems at the Centre for Ecology & Hydrology, said, "All the data and modelling resources on the CaMMP platform are freely available but are hard to track down for many organisations and not always well described.
Image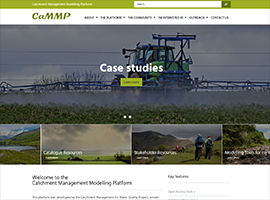 "By bringing them together in one place and demonstrating how they can be used to answer a set of key issues, CaMMP provides practical support for a wide range of organisations involved in catchment management from local to national scale."
As part of the launch event a number of presentations were given and case studies explored which highlight the benefits of the catchment management and modelling platform. These included looking at the costs and benefits of ways of managing for multiple pollutants, robustness of management solutions in the face of climate change, and how to predict where your management solution may be successfully applied in another catchment.
The CaMMP Project team were ADAS RSK, Atkins, CEH, CREW, James Hutton Institute and the University of Reading. Visit the Catchment Management Modelling Platform website for videos, case studies and details of the models and data.
Additional information
Access the Catchment Management and Modelling Platform
See a blog post highlighting a presentation from the launch event and a video overview of the platform by Prof Bridget Emmett
Staff page of Professor Bridget Emmett, Centre for Ecology & Hydrology
Staff page of Professor Jack Cosby, Centre for Ecology & Hydrology