The UK's leading web database on the impacts of air pollution on the natural environment, APIS, has been given a makeover – it's now easier than ever to search for the information you want. The site was developed and is hosted by the Centre for Ecology & Hydrology.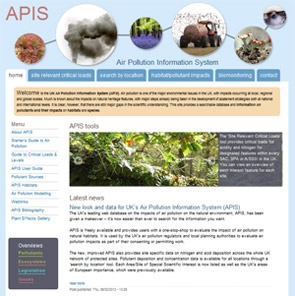 APIS is freely available and provides users with a one-stop shop to evaluate the impact of air pollution on natural habitats. It is used by the UK's air pollution regulators and local planning authorities to evaluate air pollution impacts as part of their consenting or permitting work.
The new, improved APIS also provides site specific data on nitrogen and acid deposition across the whole UK network of protected sites. Pollutant deposition and concentration data is available for all locations through a "search by location" tool. Each Area/Site of Special Scientific Interest is now listed as well as the UK's areas of European importance, which were previously available.
Bill Bealey, from the Centre for Ecology & Hydrology, developed the new website. He said, "Ten years of CEH science has provided online users of APIS with information on the impacts of air pollution on ecosystems. Developed and hosted by CEH, APIS provides a gateway to deposition and concentration data across the UK, including information on ecosystem effects and critical loads - all in one place!"
Following feedback from users, the improvements made to the site include:
An updated application to assess the risk of air pollution impacts on

ecosystems - known technically as the Site Relevant Critical Load tool. The website includes revised modelled deposition data and new 'critical loads' for nutrient nitrogen and acidity. Where a critical load is exceeded, there is a risk of air pollution damage to the habitat.

The inclusion of all Areas/ Sites of Special Scientific Interest in the UK.

The ability to assess nitrogen and sulphur deposition to a site, examine the major source inputs and produce data and graphs for each designated feature on the site.

A simpler search tool for assessing air pollution impacts on a particular habitat (pollutant-habitat records).

A new "query by location" tool to look up multiple pollutants at the same time.
Simon Bareham, Senior Pollution Impacts Adviser at the Countryside Council for Wales, said: "APIS provides a vital source of information to a wide range of users – pollution regulators, conservation agencies, academics, students, industry, local authorities, environmental consultants and the public at large.
"It's really important that APIS is up-to-date and is as user-friendly as possible so that we can all make best use of its comprehensive data linking air pollution to impacts on habitats - crucial for decision making on a wide range of issues."
Additional information
APIS is run by a consortium of the UK's environment agencies and statutory conservation agencies: Environment Agency, Northern Ireland Environment Agency (an agency within the Department of the Environment, Northern Ireland), Scottish Environment Protection Agency, Countryside Council for Wales, Natural England, Scottish Natural Heritage and Joint Nature Conservation Committee, in partnership with the Scottish & Northern Ireland Forum for Environmental Research and the Centre for Ecology & Hydrology.
Read more about APIS in a blog post by Bill Bealey
You can follow the latest developments in CEH research via Twitter and our RSS news feed.