The unsustainable use of water is a major global, European and UK concern. Increased global population, increased water usage per person, deteriorating natural ecosystems and extreme events such as floods and droughts, all require better understanding and the development of sustainable solutions to water resource use.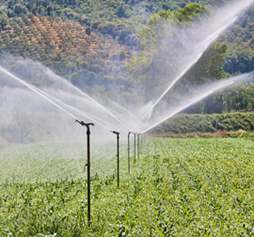 This week, European Member States, acting through the Council of the European Union, have launched a Joint Programming Initiative (JPI) to support better coordination of water-related research and innovation. UK participation in this initiative is led by the Natural Environment Research Council and will link to existing activity within the UK, being undertaken as part of the Living with Environmental Change initiative, which also aims to improve the coordination of water-related research.
Professor Alan Jenkins, from the Centre for Ecology & Hydrology (CEH), is the UK Representative of the Water JPI Executive Board. He said, "This new Initiative will provide a much needed mechanism for sharing best practice in managing water research. The Water JPI will increase the benefits derived from EU Member States funded water related research and innovation. It will help make partnering with European organisations easier, result in better water management within the UK, and provide a showcase for UK expertise around the world."
Europe currently leads world water research and innovation, with one-third of the global business, scientific publications and international patents. The initiative will help to better coordinate European research agendas, triggering specific activities such as projects, infrastructures and mobility. Interaction among the research, development and innovation programmes of partner countries will sustain European leadership by capitalising on cooperation in Europe and beyond. Integrating research efforts will enable more efficient and effective progress in assessing ecosystem sustainability, developing safe water systems for the citizens, promoting competitiveness in the water industry, implementing a water-wise bio-based economy and closing the water cycle gap.
Additional information
Details of CEH's Water science programme
Living with Environmental Change (LWEC)
Europe invests an estimated amount of 500 million € per year to fund public research and innovation activities in water split between investments from individual countries (370 million €) and the European Commission (130 million €). The Joint Programming Initiative will actively cooperate with the European Commission to provide a maximum return on these investments.
The Water Joint Programming Initiative currently involves fourteen European countries and the European Commission
You can follow the latest developments in CEH research via Twitter and our RSS news feed.