A barn owl The latest report from the Predatory Bird Monitoring Scheme (PBMS), run by the Centre for Ecology & Hydrology (CEH), suggests that more barn owls carry residues of potentially toxic rodenticides than previously thought.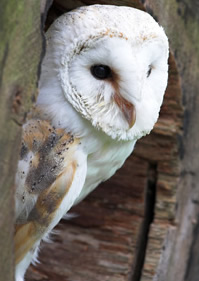 The PBMS is part of CEH's national capability activities and is a long-term national monitoring scheme that assesses the risk of contaminants to UK wildlife and the wider environment. It was set up in 1962 and is now the longest-running scheme of its kind in the world. The scheme is currently funded jointly by Natural England, the Environment Agency, the Campaign for Responsible Rodenticide Use (CRRU), and CEH.
The PBMS monitors exposure by measuring residues of chemicals, including anticoagulant rodenticides, in a range of sentinel species such as the barn owl, red kite and kestrel. Anticoagulant rodenticides, especially second generation anticoagulant rodenticides (SGARs), can be toxic to all mammals and birds. Predators that feed upon rodents are particularly likely to be exposed to such compounds. The PBMS, with other studies, has shown there is widespread exposure to SGARs of a diverse range of predators in Britain, and that some deaths occur as a result.
The importance of the monitoring carried out by the PBMS as an indicator of environmental risk is recognised by both industry and government agencies.
More sensitive methods of analysis are showing the level of exposure is more than previously thought. For example, about 40% of barn owls had been thought to carry rodenticide residues but this figure is now shown to be closer to 80%.
These new figures do not necessarily heighten concern about SGARs because the increase is mainly due to the detection of very low residues unlikely to have significant biological effect. However, the new figures do show that a very high proportion of at least one of our important birds of prey is exposed to anticoagulant rodenticides.
Commenting on the new PBMS report, Dr Alan Buckle, chair of the Campaign for Responsible Rodenticide Use, said the timing of the data was particularly sensitive, because the future availability of modern rodenticides is being considered by the European Parliament under its Biocidal Products Regulations. Dr Buckle urged people to renew their efforts in the proper use of rodent control products.
The PBMS also maintains an archive containing some 40,000 tissue samples and 10,000 bird eggs, representing a unique capacity to determine long-term trends in other chemicals that may in future be recognised as posing risks to wildlife.
The importance of this monitoring as an indicator of environmental risk is recognised by both industry and government agencies. They utilise the results of PBMS monitoring to identify which contaminants are of most concern, what mitigation measures may reduce exposure, and to track the success of any such mitigation.
Additional information
Read the full report on the Predatory Bird Monitoring Scheme from the website
Related CEH links