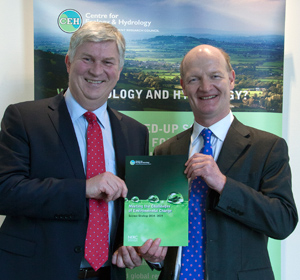 David Willetts, Minister of State for Universities and Science, visited the Centre for Ecology & Hydrology (CEH), part of NERC, on Monday 27 January. He was presented with a copy
of CEH's new Science Strategy, Meeting the Challenges of Environmental Change, 2014-2019. The strategy was published this week and addresses three major societal and environmental challenges: securing the value of nature, building resilience to environmental hazards, and managing environmental change.
During his visit the Minister discussed CEH's research portfolio, held discussions with senior staff, and met with a number of scientists who presented work on flood forecasting, biological recording, pathogens and soil moisture monitoring; seeing at first hand how CEH's interdisciplinary environmental research delivers social, economic, and environmental benefits.
CEH Director, Professor Mark Bailey, said, "It was a pleasure to welcome David Willetts to CEH on Monday morning and have the opportunity to showcase the excellence of our research in the terrestrial and freshwater sciences. It was also an ideal opportunity to announce the new, five-year CEH Science Strategy, which we see as integral to the UK's ability to deliver world-class environmental science."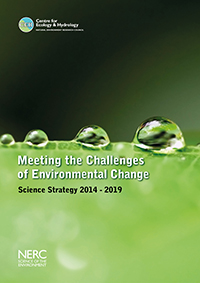 To implement the strategy CEH has established a number of Science Areas, which will make our science and researchers even more accessible to all stakeholders, and further underpin the relevance and impact of our long-term research, including the evaluation of land surface-near atmosphere interactions.
Mark Bailey added, "Our Strategy is underpinned by the national capability we deliver, supporting innovation for business and policy, and public engagement with research. Through extensive partnership and training this approach makes our data and scientific expertise more accessible; enabling us to define, develop and deliver improved understanding of the biosphere and hydrosphere, and the world in which we live."
CEH continues to carry out independent, impartial science working across disciplines and facilitate academic, public, private and voluntary sector partnerships, remaining focussed on providing early warnings of change and management solutions for our land and freshwaters.
Additional information
CEH Science Strategy: more information
You can follow the latest developments in CEH research via Twitter and our RSS news feed.