Professor Rosemary Hails MBE has been appointed as the new Director of Biodiversity and Ecosystem Science at the Centre for Ecology & Hydrology (CEH). She will take up the position on 1 April 2013. Professor Hails will join Professor Alan Jenkins (Director of Water and Pollution Science) and CEH Director Professor Mark Bailey in directing CEH's science strategy.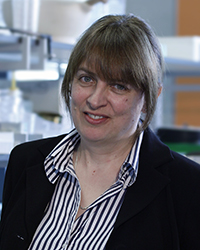 Professor Hails was educated at Oxford University (BA Honours in Zoology) and Imperial College London (MSc in Applied Entomology and PhD in insect population ecology). In addition to her role at CEH she is a senior research associate of Oxford University, a visiting professor at Oxford Brookes University and was awarded an MBE for services to environmental research in June 2000.
In her role at the Centre for Ecology & Hydrology since 1992 Professor Hails has published more than 80 peer-reviewed papers in population ecology and currently heads a research group on 'Ecological processes in the environment' within the Biodiversity programme.
Professor Hails was appointed to the Government's Natural Capital Committee in 2012. She also chairs the Natural Capital Initiative (NCI), an independent forum which focuses on how to apply the Ecosystem Approach to the sustainable, equitable management of land, water and living resources.
Professor Mark Bailey, Director of the Centre for Ecology & Hydrology, said, "I am delighted to welcome Rosie to the CEH Board. Her expertise, insight and authority will ensure that our science has increasing impact on how society manages its natural resources for the benefit of future generations."
As part of the reorganisation, Professor Richard Harding, currently Science Director of Biogeochemistry, steps down from the CEH Board on 30 April and the number of science directors will reduce from three to two.
Professor Harding has more than 30 years' experience in the measurement and modelling of water, energy and carbon across the globe. He led a research group gaining understanding of land surface processes and incorporating this into models for resource assessment and climate change studies. He leads the EU-funded WATCH Integrated Programme, designed to better describe the 20th and 21st Century global water cycle. Professor Harding will continue to work for CEH in a part-time role during 2013.
Additional information
Further information can be obtained from the CEH press office.
You can follow the latest developments in CEH research via Twitter and our RSS news feed.