A new web-based tool that calculates an individual's "nitrogen footprint" has been launched at the Nitrogen & Global Change conference, taking place in Edinburgh this week. The calculator was created by a team of scientists from the Energy Research Centre of the Netherlands and the Universities of Virginia and Maryland, and is a project of the International Nitrogen Initiative - a global network of scientists who share research and data on the nitrogen dilemma.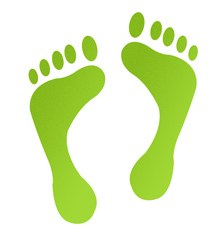 Although most of the nitrogen in the atmosphere is completely harmless (unreactive nitrogen, 78% of the atmosphere), once turned into reactive nitrogen, for example by artificial fertilizers or burning of fossil fuels, the effect is very different. Nitrogen pollution is now recognised as a major environment problem, and a threat to global biodiversity. It contributes to human health problems, water pollution, ozone layer depletion, smog, climate change and coastal dead zones.
The European Nitrogen Assessment, published earlier this week at the conference, estimates the annual cost of damage caused by nitrogen pollution across Europe at up to £280 billion, but the nitrogen story is a complex one, with both positive and negative effects.
Scientists hope the new nitrogen footprint calculator will both raise the profile of the nitrogen issue and galvanise people into action. By measuring what and how much we eat, as well as other factors such as how they travel, the calculator shows our impact on the nitrogen cycle. The website also makes recommendations for how to lessen our nitrogen footprint, similar to other sustainable living choices.
The calculator is the first in a series of research tools, known as N-Print, which the N-Print team are developing to connect the production of nitrogen with the policies used to manage it. A similar calculator is being created for farmers and other nitrogen users, as well as a tool for policymakers that will provide regional nitrogen emission ceilings to show how much nitrogen can be released in these regions without major environmental impact.
The Nitrogen & Global Change conference continues in Edinburgh until April 14.
Additional information
For more information please the n-print website
For details about the Nitrogen & Global Change event, see the conference website
The European Nitrogen Assessment is available to download from the Nitrogen in Europe (NinE) website.
Excessive nitrogen harms the economy and environment – first Europe-wide assessment published - CEH News, 11 April 2011
Nitrogen & Global Change - major science conference in Edinburgh - CEH News, April 2011
Previous CEH website news stories
Scientists at climate talks say changes to the nitrogen cycle cannot be ignored - 4 December 2009
Biodiversity under threat from increasing nitrogen emissions - 20 November 2009
100 years of ammonia synthesis: how a single patent changed the world - 13 October 2008
Is nitrogen a major cause of climate change? - 10 July 2008
You can follow the latest developments in CEH research via Twitter and our RSS news feed.