A new atlas of British and Irish bryophytes is published this month. Bryophytes is the collective term for mosses, hornworts and liverworts, spore-producing, rather than seed-producing, plants without flowers.
Analysis in the atlas shows that many bryophyte species growing on the barks of trees have spread across Britain in response to a decrease in sulphur dioxide pollution over recent decades.
The British Isles support a rich and geographically diverse flora of bryophytes with more than 1000 native species (four hornworts, 298 liverworts and 767 mosses) currently known. Fifty-nine new species have been discovered in the last 20 years.
Image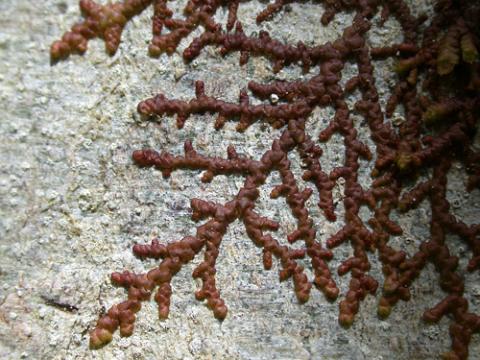 The British Bryological Society and the Biological Records Centre started recording bryophyte occurrences in 1960 and some 1069 species are mapped in the new, two-volume publication. It replaces an earlier, three-volume atlas (1991–94), updating it with the results of two decades of further fieldwork. The number of records on which the maps are based has increased from a total of 770,000 in 1994 to 2.83 million in 2014.
Records have been contributed largely by amateur recorders – 404 recorders contributed 97% of the records and of these a 'hard core' of 45 recorders each contributed more than 10,000 records.
The maps in the atlas reveal dramatic changes in the distribution of some species since 1990.
The most striking change has been the increase of many species which grow on the bark of trees, a response to cleaner air following reductions in sulphur dioxide pollution in recent decades. Many species, such as the moss Cryphaea heteromalla and the liverwort Frullania dilatata, have spread from the relatively unpolluted areas and now occur throughout Britain and Ireland.
By contrast, some species such as Pohlia nutans which grow in acidic areas and thus benefit from pollution, have decreased in the areas which were once heavily polluted.
Because both air quality and land use have changed so markedly since 1960, it is difficult to measure the extent to which climate change has affected bryophyte distributions. However, the small liverwort Cololejeunea minutissima, formerly a coastal species, has spread inland in recent years, perhaps in part because of milder winters.
Image
In the Foreword, Professor John Birks from the University of Bergen describes the new Atlas as "a truly magnificent achievement" and "a major contribution not only to British and Irish botanical literature but also to international botanical literature".
Co-editor Chris Preston, from the Biological Records Centre at CEH, said, "The Atlas highlights the contribution that volunteer naturalists can make to the study of our biodiversity. Although we are often told that naturalists are a threatened species, the publication of this Atlas shows that this is far from the case. Dedicated observers are devoting years to systematically recording our species, and by use of computer technology are able to contribute their records to a national database.
"We hope that this atlas will stimulate bryologists in Britain and Ireland to continue to record these fascinating plants."
Professor Birks added, "This two-volume Atlas of British & Irish Bryophytes is a truly magnificent achievement by all field bryologists, young and old, amateur and professional, who have meticulously surveyed the bryophytes in all parts of Britain and Ireland, including rain-soaked ultra-oceanic areas; remote cold and windy mountain tops; or unpromising derelict industrial areas in.  The publication is a tribute to the British Bryological Society and to all its enthusiastic and energetic members."
The atlas was edited by T L Blockeel, S D S Bosanquet, M O Hill & C D Preston. It is published by Pisces Publications on behalf of the British Bryological Society.
Additional information
Full reference: Blockeel, T L, Bosanquet, S D S, Hill, M O and Preston, C D (2014). Atlas of British & Irish Bryophytes. Pisces Publications, Newbury.
The atlas can be ordered via all good bookshops or purchased directly from Nature Bureau.
View some more photographs from the atlas on the CEH blog.
The British Bryological Society exists to promote the study of mosses and liverworts. With a full programme of field meetings, a paper reading meeting, recording and research projects, an international academic journal and a lively membership magazine there is something for everyone interested in learning about bryophytes.
The Biological Records Centre (BRC), is a national focus in the UK for terrestrial and freshwater species recording. BRC is celebrated its 50th anniversary in 2014. BRC works closely with the voluntary recording community, principally through support of national recording schemes and societies. BRC is supported by the Joint Nature Conservation Committee and the Centre for Ecology & Hydrology within the Natural Environment Research Council. The work of BRC is a major component of the National Biodiversity Network
You can follow the latest developments in CEH research via Twitter and our RSS news feed.