Black carbon and tropospheric ozone are harmful air pollutants that negatively impact both human health and climate. This week the United Nations Environment Programme (UNEP) has published a new assessment providing science-based advice on actions to reduce the impact of these pollutants.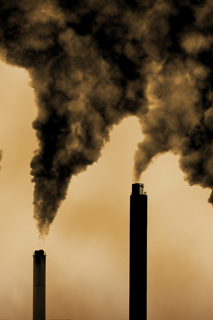 The report 'Integrated Assessment of Black Carbon and Tropospheric Ozone' was presented to the Governing Council / Global Ministerial Environment Forum (GC/GMEF) of UNEP during their meeting in Nairobi, Kenya (21-24 February 2011).
This assessment has been co-ordinated by SEI York (part of the University's Environment Department) and was undertaken by about 50 authors from around the world and chaired by Drew Schindell of NASA-GISS.
Professor David Fowler from the Centre for Ecology & Hydrology was a lead author of the new report coordinating chapter 3 'Atmospheric processes, tropospheric ozone and black carbon concentrations, deposition, and radiative forcing'
Professor Fowler said, "This new assessment aims to provide a set of control measures for black carbon and tropospheric ozone that will benefit local and regional air quality and thus human health, crop production and ecosystems, as well as reducing radiative forcing of the global climate."
The report states that full implementation of these measures would reduce future global warming by 0.5 degrees C (within a likely range of 0.2-0.7 degrees C). If the measures are implemented by 2030, this could halve the potential increase in global temperature which is projected for 2050. The rate of regional temperature increase would also be reduced.
Both near-term and long-term strategies are essential. Reductions in near-term warming can be achieved by control of black carbon and O3 whereas carbon dioxide emission reductions, beginning now, are required to limit long-term climate change. Implementing both reduction strategies is necessary to improve the chances of keeping the Earth's global mean temperature increase to within UNFCCC's 2 degrees C target.
Professor Fowler added, "The measures proposed are tried and tested. The combined effect will deliver a rapid response in the atmosphere as these pollutants have short residence times (days to weeks in the atmosphere) relative to carbon dioxide or nitrous oxide which have much longer atmospheric lifetimes."
Additional information
BBC Online - Benefit to cutting 'black carbon'
United Nations Environment Programme
The European Commission, Joint Research Centre issued a press release to accompany the presentation of the reports to UNEP.
Read the Integrated Assessment Summary (PDF, 2.55mb) [NEED NEW INTERNAL LINK] available from the Stockholm Environment Institute