Nature and Biodiversity News & Views aims to help raise public awareness of issues relating to biodiversity and the natural world. The website features a series of short topical articles on nature and biodiversity (such as invasive species, biofuel crops and biodiversity and farming & wildlife). Each topic contains links to further reading. Alongside each topic is a series of multiple choice questions. Users can express their views by answering these questions or by writing a free text comment. Users can also see how people have answered the questions and read other people's views.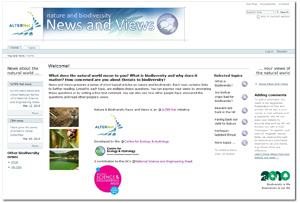 Nature and Biodiversity News & Views is aimed at a general public audience (from ages of about 12 and upwards). It should appeal to teachers and their students, since it encourages students to consider different viewpoints and express their opinions.
News & Views has been developed by Andrew Sier at the Centre for Ecology & Hydrology together with CEH's partners in the European ALTER-Net network. News & Views is a contribution to to the UK's National Science and Engineering Week.