New research published this month links increased migration of moths and butterflies (Lepidoptera) to the UK during the last two decades to a pattern of rising temperatures in South West Europe.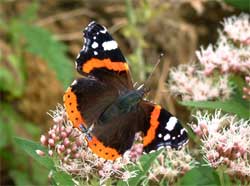 The study, published in the European Journal of Entomology, was led by Dr Tim Sparks from the Centre for Ecology & Hydrology research site at Monks Wood, Cambridgeshire, UK.
Dr Sparks commented "This report confirms what we been anticipating; that Britain will gain an increasing number of migrant insects from southern Europe as the climate warms. We have plenty of evidence for changing migration patterns in birds, and now, for the first time, we have confirmed similar patterns for this important group of insects."
Blairs Shoulder Knot, © Nick Greatorex-DaviesThe research team analysed a unique 23-year set of butterfly and moth observations from the garden of the Portland Bird Observatory in Dorset, UK, concluding that the annual numbers of species of migratory Lepidoptera increased from an average of 10 to around 40. The results suggest that for every one degree Celsius rise in temperature in SW Europe 14 new species of Lepidoptera can be expected to arrive on the South Coast of England.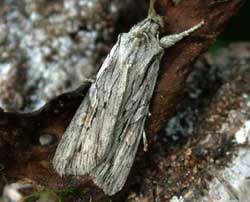 Dr Sparks added, "While we welcome some migrant insects, such as harmless and beautiful butterflies, we don't fully know the degree to which others may become significant pests or competitors to native insects."
This study represents the first analysis of contemporary Lepidopteran data in association with recent climate change. Previous research in this area, also led by Dr Sparks, focussed on datasets collected prior to 1962.
Links
Full text of this open access paper (Sparks, T.H., Dennis, R.L.H., Croxton, P.J. & Cade, M. 2007. Increased migration of Lepidoptera linked to climate change, European Journal of Entomology, 104, 139-143)
Press release – issued 4th January 2007