The key catalogue of information on alien (non-native) species in Europe has undergone a major update. The DAISIE (Delivering Alien Invasive Species Inventory for Europe) database allows the public and policy-makers to get a comprehensive overview of which alien species are present in Europe, their impacts and consequences for the environment and society.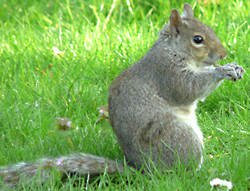 The DAISIE online database, which is relaunched today at the NEOBIOTA conference in Pontevedra, Spain, contains details of more than 12,000 alien species. Information collated by DAISIE plays an increasingly important role in tackling the threat of alien species within Europe which has been highlighted as a priority action in policies at all levels from national to global including the Convention on Biological Diversity Strategic Plan for Biodiversity 2011-2020 (Aichi Target 9).
The DAISIE project began in 2005 with funding from the European Union and is now supported by the NERC Centre for Ecology & Hydrology (CEH) in the UK and the Swiss Sciex programme, in collaboration with a consortium of alien species experts from across Europe. In recent months details of more than 1000 new species have been added to the database by experts from across Europe, and many other species entries have been updated with the latest information.
DAISIE co-coordinator, Dr Helen Roy, from CEH, said, "The freely available, high quality, information on the DAISIE website is key to underpinning decision-making on invasive alien species across Europe and beyond. The project is successful because a dedicated group of experts from across Europe take time to contribute, maintain and update the species information in DAISIE.
"This pan-European collaboration within the project is critical to addressing the threat of invasive alien species, considered one of the greatest threats to biodiversity, now and in the future."
DAISIE contributor Dr Franz Essl, from Environment Agency Austria, said, "The DAISIE portal has become the prime source on the state of the growing threat of biological invasions in Europe. The launch of the updated version of the portal, providing lots of new information and new search tools, makes it even more relevant – for scientists, conservation managers, and decision-makers."
Information from DAISIE helps in monitoring and assessing emerging threats from new arrivals, such as the northwards expansion across Europe of the Asian Hornet, and current changes in locations of the grey squirrel in Southern Europe.
The DAISIE inventory currently contains details of more than 12000 species (986 Aquatic marine, 669 Aquatic inland, 2740 Terrestrial invertebrates, 400 Terrestrial vertebrates, 6658 Terrestrial plants, 724 Terrestrial fungi). The majority of these are not harmful. Where impacts have been assessed, around 15% are known to cause economic damages and around 15% are known to cause harm to biological diversity (environment, habitats and native plants, animals and micro-organisms).
Additional information
CEH issued a press release for this story.
The DAISIE website
CEH Blog: Invasive alien species - from data to decisions
You can follow the latest developments in CEH research via Twitter and our RSS news feed.