The 6th World Fisheries Congress (WFC), a major international meeting of scientists, non-governmental organisations, industry and policymakers, has been taking place in Edinburgh this week (7-11 May 2012). The event was hosted by the Fisheries Society of the British Isles, whose President is Dr Ian Winfield, a lake ecologist with the NERC Centre for Ecology & Hydrology.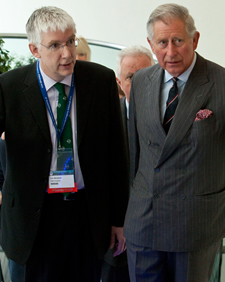 Organised on behalf of The World Council of Fisheries Societies, the focus of the 6th WFC was "Sustainable Fisheries in a Changing World".
As President of the FSBI and a member of the local organising committee, Dr Winfield was heavily involved in managing this year's event in Edinburgh, which included a notable address by HRH The Prince of Wales, in his role as the founder of The Prince's International Sustainability Unit.
More than 1,400 delegates have attended the event over the five days, to hear from speakers from industry, science, fishing and aquaculture. A full programme of panel discussions took place throughout the course of the World Fisheries Congress, covering topics including common fisheries policy reform, sustainability, labelling and illegal fishing.
Dr Winfield was also among the scientific speakers, addressing a session focusing on Inland Fisheries. He outlined some of the work that he and colleagues at the NERC Centre for Ecology & Hydrology have carried out looking at eutrophication, catchment management and the recovery of the Loch Leven recreational brown trout fishery.
The main aim of the World Council of Fisheries Societies is to promote international cooperation in fisheries science, conservation and management by encouraging and promoting sustainable management practices, excellence in fisheries research and the wise use of fishery resources. One important way in which the Council seeks to achieve these ends is through the organisation of a major World Fisheries Congress every four years.
Additional information
Lake Ecosystems research at CEH
You can follow the latest developments in CEH research via Twitter and our RSS news feed.