Recently discovered records found in an attic are set to bring new life to an annual hunt for wild flowers.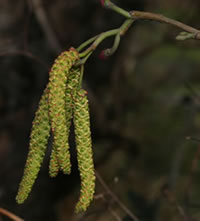 Hazel Catkins, picture courtesy of Sue Wallis The records, found by Wild Flower Society (WFS) members Derek and Lorna Holland, date back to a 1920s style Springwatch, known as the First Week Hunt. Still run by the WFS today, the Hunt involves people recording plants that they see in flower during the first seven days of March.
To capitalise on the newly discovered records, The WFS has embarked on a joint venture with the Centre for Ecology & Hydrology and the Woodland Trust, the two organisations behind the BBC's original Springwatch series.
Dr Tim Sparks, an environmental scientist based at the Centre for Ecology & Hydrology research site at Monks Wood said, "These records may give us the unique opportunity to understand how climate change has affected the number of flowering British plants over the last eight decades. Only through the continued commitment of these volunteer flower watchers at the Wild Flower Society is this possible".
The results from this year's First Week Hunt which runs from 1st to 7th March 2006 will be added to the recently discovered archive of flowering dates. Dr Sparks added, "The expectation is that climate warming will have resulted in increased early flowering - and now at last we have some evidence to test this theory."
Additional Information
CEH research on the timing of natural events