National Science Week 2006 runs from the 10th to 19th March. Each year the Centre for Ecology & Hydrology contributes to events during Science Week which is organised by the British Association.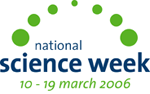 PresentationScientists at our sites around the country go out to meet the public, explain some of our science and get the public to join in scientific activities. It takes a lot of effort but we really enjoy meeting people, explaining what we do and inspiring others to take an interest in science.
Some examples of our activities for this year's Science Week include:
The highlight of our week is in Dorset on Thursday March 16th when Professor James Lovelock (of Gaia theory fame) takes to the stage. Prof. Lovelock will be speaking on the 'The vengeance of Gaia'. Unfortunately the lecture is now fully booked but Dorset staff are also running a pub quiz and a Conservation species "Just a minute" debate. Both these activities are open to the public.
Wallingford staff are running an extensive programme for schools and the public, including an open day on Saturday 18th March. On offer will be five interactive experiments exploring the impact of agriculture on our environment.
Edinburgh staff are running a carbon cycle game on Sunday 19th March, as part of a larger event at the Glasgow Science Centre.
Oxford staff are taking a 'worm stall' to the 'WowHow? Fair at Oxford's Museum of Natural History on Saturday 11th March. On show for 6-10 year olds will be a wormery, a video microscope and worm casts etc at close quarters.
Lancaster staff are hosting visits from two local primary schools, who will be taking part in activities on soil fauna, plant ecology and upland peat's links with climate change.
For more details on our activities during National Science Week visit our Activities near you webpage.
You can see details of other Science Week activities near you (many are free) on the BA website.