New results from 40 years of intensive scientific research show that Loch Leven, Scotland's freshLoch Levenwater 'jewel in the crown', is on the road to recovery after decades of water quality problems. The best water quality since restoration measures began has been recorded during 2008.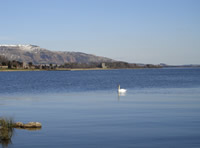 The conclusions will be presented at a symposium in Kinross, Scotland on 11 December 2008 by scientists from the Centre for Ecology & Hydrology who have carried out a detailed water quality monitoring programme at Loch Leven since 1968.
Ecology and water chemistry monitoring has been undertaken at Loch Leven every other week since 1968 along with studies of aquatic plants, fish and birds. The latest results show that algal blooms are now less frequent, underwater plants are thriving again in the clearer water, and there has been a marked improvement in the fishery.
Dr Linda May, from the Centre for Ecology & Hydrology, who has led the monitoring programme for the last 15 years, said, "The lessons learnt from long-term research at Loch Leven are helping managers improve water quality in shallow lakes across the world. The monitoring programme has given us a better understanding of the links between pollution, climate change and ecological response which has ultimately led to the successful restoration of Loch Leven, the largest shallow loch in lowland Scotland."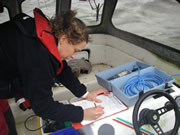 The changes at Loch Leven have resulted from reductions in nutrient inputs from farming, industry and sewage. These came about as a result of water quality targets set in the 1990s, based on scientific evidence provided by the long-term monitoring programme.
Over 100 people will attend the Kinross symposium from including representatives of the Scottish Government, Scottish Environment Protection Agency, Scottish Natural Heritage, the Royal Society for the Protection of Birds, as well as many other organisations involved in the conservation and management of lakes within the UK. Dr May added, "The Loch Leven work is remarkable, not just for its long-term nature and its focus on integrating science, policy and management, but also because of the wide range of organisations and individuals that have been instrumental in maintaining the monitoring programme and implementing the restoration programme."
Additional Information
Media enquiries about this report should be directed to the Centre for Ecology & Hydrology press office.
More information on the CEH monitoring programme and background facts on Loch Leven are available here.
The scientific team from the Centre for Ecology & Hydrology research site in Edinburgh visit the Loch every other week to gather information on lake ecology and water chemistry. Macrophyte (aquatic plant) data is collected every three years and seasonal estimates of the biomass and species composition of fish are undertaken. Data on daily trout catches have been collected by the Loch Leven fishery since 1870 and Scottish Natural Heritage have collected data each month since 1967 cataloguing the bird population.