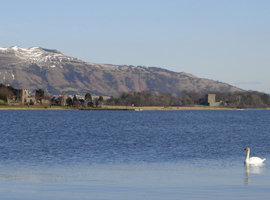 Information from CEH's long-term monitoring at Loch Leven has contributed to a new global database of lake surface temperature records. The Global Lake Temperature Collaboration (GLTC) team compiled data from 291 lakes and reservoirs around the world, from both satellite observations and on the ground measurements.
Details were published this week in a new paper in the Nature journal Scientific Data, following the collaboration between more than 70 scientists in 20 countries. The database contains information from the largest lakes in the world, such as the North American Great Lakes, Lake Baikal and Lake Tanganyika, as well as smaller and more remote lakes.
Recent studies have suggested that some lakes around the world are showing significant and rapid warming of water temperatures, but the scale of the trend remains unclear. The new database will offer an invaluable baseline perspective on lake thermal conditions for ongoing and future studies of environmental change and its ecological effects.
Dr Linda May of CEH, one of the co-authors on the new study, leads the monitoring work at Loch Leven. She said," "It is very exciting to see our long-term monitoring data from Loch Leven contributing to this important, global scale dataset. I was surprised to find out that Loch Leven is warming faster than almost any other lake on the planet. Clearly, this has implications for the ecology of the lake and the benefits it provides to society.
"Our ongoing research here will help us understand the effects of climate change on a much broader spectrum of lakes and the role of resilience in mitigating its impacts."
Since its inception in 2010 the GLTC initiative, providing summer-mean lake surface temperatures from 1985-2009, has roughly doubled the amount of data previously available from satellites alone. The new dataset represents the first publicly available global compilation of in situ and satellite-based lake surface temperature data.
The GLTC database also provides information on climatic drivers (air temperature, solar radiation, cloud cover), as well as geomorphometric characteristics that may affect lake temperature (latitude, longitude, elevation, lake surface area, maximum depth, mean depth, volume).
Additional information
Global Lake Temperature Collaboration (GLTC) website
Data from Loch Leven can be found on the CEH Information Gateway
Scientific Data is an open-access, peer-reviewed publication for descriptions of scientifically valuable datasets.
Full paper reference: Sapna Sharma et al. A global database of lake surface temperatures collected by in situ and satellite methods from 1985–2009. Scientific Data 2, Article number: 150008 (2015). doi: 10.1038/sdata.2015.8
More information about the new database can be found in this blog post by one of the lead authors: Are Lakes Warming?
Detail of CEH's long-term monitoring at Loch Leven
Loch Leven is part of the Environmental Change Network