On Monday 18 October, 80 young people with a passion for science visited the Centre for Ecology & Hydrology's Wallingford site. The visit was part of the Youth Forum programmes run by South Oxfordshire and the Vale of White Horse District Councils.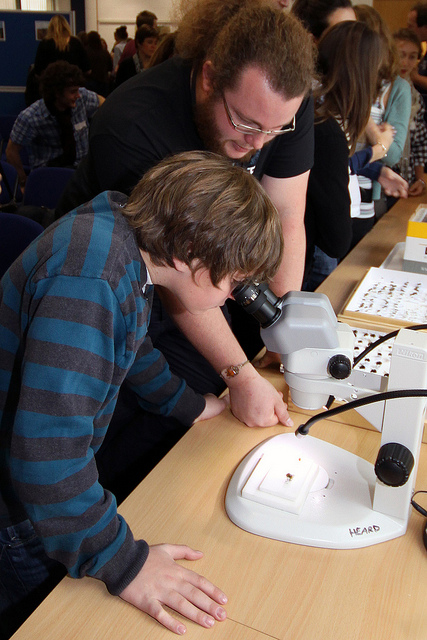 Members of the youth forums are elected each year from every school in the area to attend events, learn about politics and take this information back to their schools.
The youngsters, aged 14-18, participated in a number of activities throughout the day including presentations from some of CEH's scientists, a lunchtime tour of CEH's new laboratories, and a lively debate section based around current environmental issues.
Ross Newham, the lead organiser from CEH, said, "This event highlighted some of the key science activities being undertaken by CEH to address future environmental issues facing society.
"Given these scale of these challenges it is imperative that the next generation of scientists come through the education process to help develop tomorrow's solutions. It was fantastic to see so many students actively considering environmental science options when deciding upon their future courses."
Eleanor Suter, from Didcot Girls' School, said, "It's really broadened my knowledge and understanding of science. I feel a lot more informed about careers in environmental science."
Tony De Vere, Leader of Vale of White Horse District Council, said, "This was the first time the South and Vale youth forums have come together and we were impressed by the lively debate. The young people got a better understanding of how science can be fun and interesting."
Ann Ducker, Leader of South Oxfordshire District Council, said, "Improving opportunities for young people is important as they are the future of our society. The day gave an insight into different career opportunities but also taught them more about the environment we live in."
Related CEH links